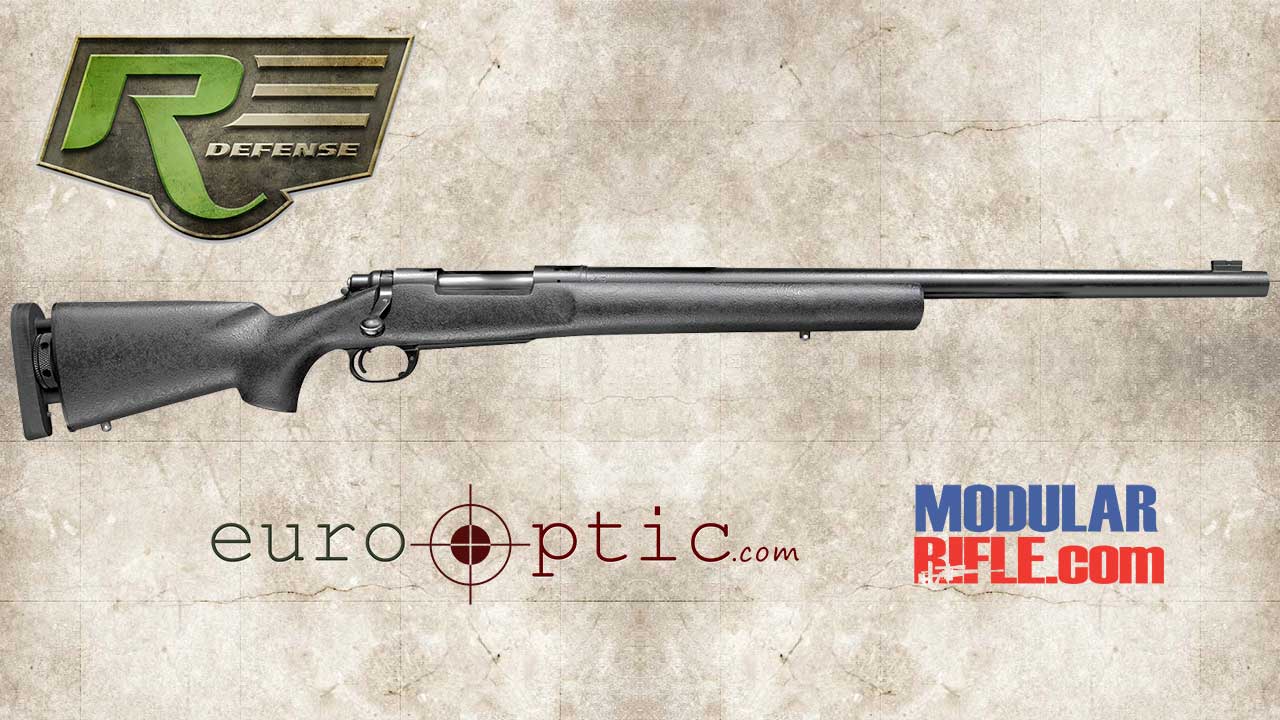 Remington Defense M24 7.62 NATO 24" Rifle 86715 Pre-Order
I'm not sure how EuroOptic manages it but they sell firearms you don't typically see offered elsewhere, case in point my Remington Defense XM2010 aka M2010 barreled action and this rifle here a limited run of 500 Remington Defense M24 .308/7.62 Nato Sniper Rifle. The EuroOptic special part number is 86715 and seems to be identical to the Remington Defense M24 25732.
EuroOptic Exclusive – $100.00 donated to the Army Sniper Association for each rifle sold. First expected ship date (small batch): Mid-September 2019
If anyone reading this purchases one of these historical M24 sniper rifles feel free to share your experience and pictures.
Remington M24 Sniper Rifle
We are excited to announce that we've teamed up with Remington Defense for a EuroOptic Exclusive run of the legendary Remington M24 Sniper Rifle! Until now, true factory M24 rifles have only been available to military and law enforcement agencies. To commemorate the founding of both the Army Sniper School and the Army Sniper Association, Remington Defense has agreed to produce 500 Special Edition M24 Rifles with serial number prefix ASA1987. Additionally, EuroOptic will donate $100 to the Army Sniper Association for each rifle sold!
The first shipment of these rifles is expected to arrive in September 2019 with the last shipment estimated to arrive in January 2020. Don't miss out on this chance to own an iconic rifle that has faithfully served in every US military conflict from Operation Just Cause to the Global War on Terror – Reserve Your Own M24 Sniper Rifle Today!
Involved in every US military conflict since Operation Just Cause, the Remington M24 Sniper Rifle has proven itself as a versatile, accurate, and valuable tool in the hands of any marksman. For the first time ever, the legendary Remington M24 Sniper Rifle is now available for pre-order exclusively from EuroOptic! Only 500 of these special edition rifles will be available to the general public – each with the prefix "ASA1987" commemorating the founding of the US Army Sniper School and Army Sniper Association in 1987. Every M24 sold as part of this special event was hand-built by the same craftsmen who have been manufacturing the M24 Sniper Rifle as part of the M24 Sniper Weapons System for the last 30+ years. This rifle is a must have for any collector, precision shooting enthusiast, or former DoD sniper who may have trained or was deployed with the M24 Sniper Weapon System (SWS).
Remington M24 Description
The M24 Sniper Rifle is chambered in 7.62x51mm NATO (.308 Winchester) is outfitted with a 24" 416 stainless steel bull (#8 contour) barrel. The barrel is 5R rifled with a 1:11.25" right hand twist that provides excellent accuracy for almost all .308 loads. Additionally, the barrel features a post for the attachment of a front target sight found on all M24 Sniper Rifles. Despite being chambered for a short action cartridge the M24 is built on the Remington 700 long action – allowing the rifle to be rechambered for the .300 Winchester Magnum (bolt change/modification required), a request made by the US Army when the M24 was developed.
The single stage trigger was designed specifically for the M24 Rifle, is externally adjustable from 3.5-5 pounds, and the internal magazine holds up to 5 cartridges. The stock of the M24 Sniper Rifle is as solid as they come – produced by HS Precision, the stock is made from aramid fiber-reinforced composite. Additionally, the stock is hand adjustable for length of pull. The M24's action is mounted to the stock via rigid aluminum mounting block that free floats the rifle's barrel for enhanced accuracy and repeatability when using a bipod or shooting bag.
Don't miss out on this once in a lifetime opportunity to own the M24, a rifle that has served honorably and reliably with members of the US Armed Forces for three decades!
Remington Defense M24 Sales Flyer Download
Remington M24 Specifications
Caliber:
.308 Winchester / 7.62x51mm NATO
Weight:
11 lbs.
Rifle Overall Length:
43″
Action:
Bolt Action
Rem 700 Long Action
Trigger:
Remington M24 Trigger
3.5-5 lbs.
Safety:
Rem 700 Style Safety
Rifle Barrel Length:
24″
Rifle Barrel Twist:
1:11.25
5R Rifled
Rifle Stock:
HS Precision Composite with Aluminum Mounting Block
Scope Mount:
Picatinny Rail Sections
Magazines Included:
Internal 5 Round Magazine
Iron Sights
No
Caliber or Gauge:
7.62 x 51mm NATO
Handedness
Right Hand
Item Condition
New
Product Type
Rifles
MPN
86715