AFTERMARKET SAVAGE RIFLE BARRELS
Before you consider replacing your Savage rifle barrel visit the Savage trigger page Click For Triggers . A quality aftermarket trigger in most cases should be the first upgrade of a Savage factory rifle.
INTERNATIONAL BARRELS INC AFTERMARKET SAVAGE RIFLE BARRELS
Looking to change out the barrel on your Savage Model 110 rifle action? Thanks to International Barrels  Savage Pre Fit Barrels, changing out your rifle's barrel doesn't have to involve a trip to the gunsmith! The specially developed design of these Savage small-shank pre-fit barrels means you can swap out your rifle caliber right at home.
Each International Barrels Pre-Fit Savage Small Shank precision barrel is constructed with a barrel-nut system that can be threaded onto your action right at home. Once the barrel is threaded into place, simply check its positioning with a set of headspace gauges and then tighten the barrel nut down to its proper torque settings. Then you're done!
The easy attachment system of these International Barrels Pre-Fit Barrels isn't all you're getting. These gun barrels are button-rifled and are made to precision tolerances, double-checked at every step along the way. The barrels are made using the company's Medium contour, which features a straight taper from the breech to the muzzle. Each barrel is threaded with 5/8-24 TPI muzzle threads. The company warns that some stocks may need to be inlet to allow clearance for the barrel nut. Visit International Barrels Inc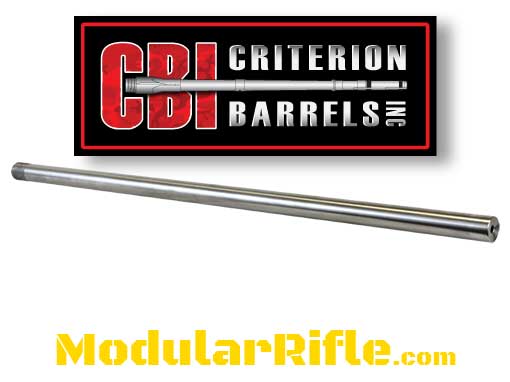 CRITERION BARRELS PRE-FIT SAVAGE RIFLE BARRELS
Criterion manufactured Savage pre-fit barrels are available through Northland Shooters Supply (NSS). Each Criterion pre-fit barrel features a hand lapped bore and extreme tolerance requirements. Utilizing the Savage barrel nut design, these barrels can be swapped in less than 15 minutes and are capable of national record-setting performance. Criterion offers finished lengths up to 30″ with multiple contour options: Sporter, Heavy Sporter, Light Varmint, Varmint and Bull
ER SHAW AFTERMARKET SAVAGE RIFLE BARRELS
E.R Shaw Premium Quality, fully threaded and chambered barrels make short work of re-barreling or changing calibers on your favorite Savage 110 rifle. Simply match the caliber listed below to the specific action length and bolt face diameter of your rifle; this easy-to-install kit contains everything you need for a successful barrel change except the barrel vise. All barrels will closely match the original factory contour, so additional stock inletting or bedding is kept to a minimum. Gunsmith installation recommended. After installation, barrel must be stamped with caliber per NFA requirements.
E.R Shaw Savage Barrel Kit includes a finished drop-in barrel, barrel nut wrench, "Go" and "No-Go" headspace gauge, detailed instructions, Uncle Ed's Gun Oil and Uncle Ed's Bore Paste. This barrel is precision reamed and button rifled. Length and bore diameter are held to match quality tolerances of .0003″. While not a switch barrel, this kit is an inexpensive means of unmatched versatility for a gunsmith or serious enthusiast to change the caliber, material and or contour of their Savage rifle.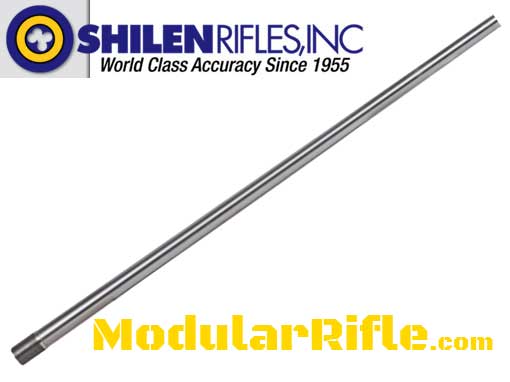 SHILEN REPLACEMENT SAVAGE RIFLE BARRELS
SHILEN Savage Drop-in Barrels
For years shooters have enjoyed the flexibility of the Savage Shooting System. The ability to have one gun that is capable of having multiple caliber barrels each having its specific purpose has always been desired by shooters. Combine the design of this action with the accuracy of a Shilen Barrel and the combination will be lethal, (to the target that is).
Shilen Savage Barrels come threaded and fully chambered ready to be installed into the action with no additional machining or modification needed. Barrel finish will be polished for stainless and blued for chrome-moly. The customer may pick the finish length of their choice. There is an additional charge for lengths longer than 26″.
Each barrel comes with the following crown based on the contour of the barrel: Sporter – Radius Crown, Heavy Sporter – Recess Target Crown, Varmint – Recess Target Crown, Bull – 11 Degree Crown
Contours available to closely match factory contours and should require very little to no stock work.
We HIGHLY RECOMMEND that actual headspace gauges be used to determine if a barrel is properly installed and head spaced. In our opinion, this is the safest way to guarantee you will come back for more barrels.
NOTE: Savage is made in two shank dimensions and we recommend you contact Savage to verify your shank dimensions
MCGOWEN PRECISION REPLACEMENT SAVAGE RIFLE BARRELS
Savage Prefit Replacement Barrels
McGowen Precision Barrels is one of the leading manufacturers of aftermarket Savage replacement barrels. You'll see our Pre-Fit Savage barrels on hunting rifles, long range competition rifles and Savage Striker pistols. The Savage rifles and pistols have become increasingly popular in the past 3-4 years due to the ease of installation of a new barrel. The easiness of changing out the barrel allows the owner of the rifle or pistol the ability to have one rifle in multiple cartridges. It literally allows you to use the same rifle for varmint or dangerous game hunting, all on one platform! We offer the Savage Pre-fit barrels in a variety of configurations including lengths, contours, chambers, material and finishes. This allows you to take your off-the-shelf Savage rifle or pistol and make it a tack-driving machine.
A precision McGowen Barrel starts with high quality 416R barrel steel and is crafted by hand with an eye for extreme accuracy every step of the way.  Turn your average rifle into a tack-driver with one simple upgrade.
McGowen Precision Barrels was formed in 2007 from the mothballed equipment of Mr. Harry McGowen.  The processes have changed and modernized and the barrels are even more accurate.  The McGowen button rifling process, attention to detail, and top quality materials create one of the most accurate barrels on the market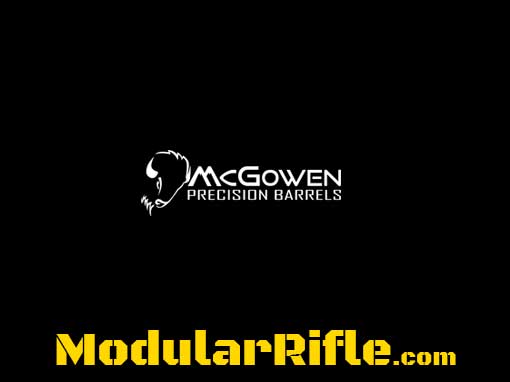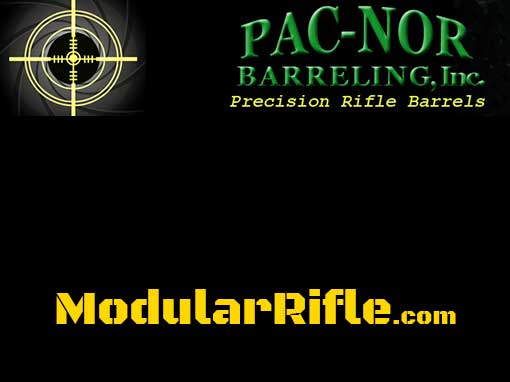 PAC-NOR PRE-FIT SAVAGE RIFLE BARRELS
Pac-Nor Prefit barrels have gained acceptance with gunsmiths in the U.S., as well as most foreign countries. The prefit barrel comes to you completely contoured, polished, hand lapped, threaded, chambered, & crowned with a short thread shank to be set back for proper head space: ready for you to have fitted to your action. (All prefit barrels should be fitted and headspaced only by a qualified and competent gunsmith.)
Prefit barrels can be supplied in any of the chambering choices currently available
from PAC-NOR. All threads are single-cut on CNC Control machinery.
X-CALIBER SAVAGE PRE-FIT BARRELS
The Savage pre-fit barrel is a product that every major barrel manufacturer is producing for competent gunsmiths with skill levels ranging from the at home do-it-yourselfer up to your certified professional. If you are gun-savy and have a barrel vise, a Savage barrel nut wrench and the corresponding chambers' Go gauge, you have everything you need to correctly change your Savage barrel.  Savage pre fits come in 2 shank sizes; Standard (small) Shank / 1.055"-20, Large / 1.120"-20.  Please be sure of your Savages' shank size before placing order to ensure an easy order placement. Hand Lapped
X-Caliber Rifle Barrels
3465 US Hwy 2 West
Kalispell, MT 5990
406-393-2610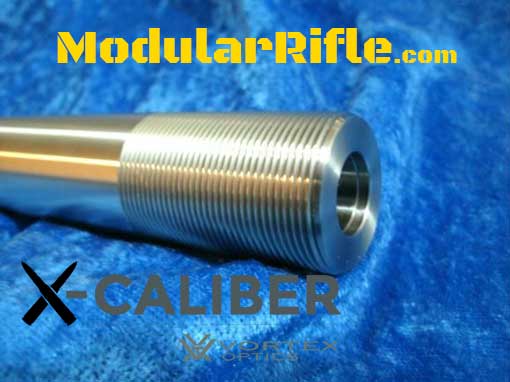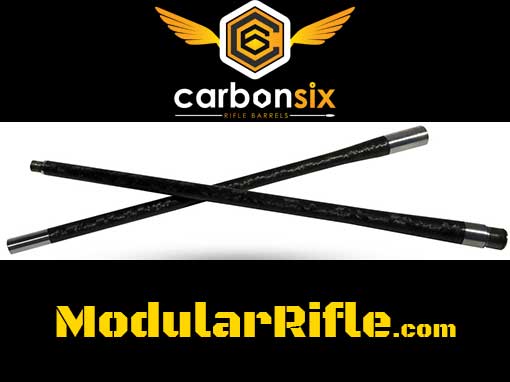 CARBONSIX SAVAGE PRE-FIT BARRELS
Carbonsix is the only barrel manufacturer letting you choose your pattern. Our unique manufacturing process allows you to fully customize your new barrel, down to the carbon's appearance.  This pattern is part of the manufacturing process, but strictly cosmetic. Pick what you want with no performance worries.
HELICAL PATTERN
This is the most popular and familiar pattern to carbon fiber barrel customers.  A function of the manufacturing process, the helical design creates a mottled design that changes and shifts in appearance as the barrel moves.  It's often been compared to a camo pattern.
HOOP PATTERN
This unique wrap style mimics the look of thread on a spool.  It's quite different than the standard helical design and the familiar carbon weave.  This is a great design for that rifle that needs to be different.
WOVEN PATTERN
Fans of carbon fiber are familiar with our woven pattern.  This is a high-tech, modern looking carbon design.
Carbon Six custom barrels are offered in the 4 most popular barrel contours in addition to blanks.  They are simply broken down into a featherweight, light, medium and heavy contour.  The beauty of a carbonsix barrel is the amazing weight reduction.  Many customers choose to take full advantage of this by selecting the light option.  If you want a medium or heavy, you still get the benefit of significant weight reduction.  As a percent of weight reduction, you gain as the contour goes up.  A carbonsix bull contour vs a full stainless bull contour will yield the largest reduction.
LOTHAR WALTHER SAVAGE PRE-FIT BARRELS
These LOTHAR WALTHER SAVAGE PRE-FIT BARRELS "drop in" type barrels come complete with the Savage varmint contour, SAAMI chamber, depressed center crown and Savage breech thread. The barrels are produced from LW 50 stainless steel which is longer lasting than other stainless steels. They are taper lapped. They are stocked in 24", 26" and 28" lengths. The length is determined by the caliber which they are chambered for. These barrels go beyond what some call "match grade". They are the highest quality production after market barrels for the Savage bolt action.
Lothar Walther Precision Tools, Inc.
3425 Hutchinson Rd.
Cumming, GA 30040
Phone: 770-889-9998
Fax: 770-889-4919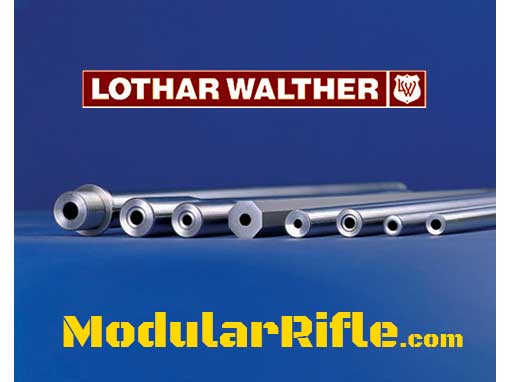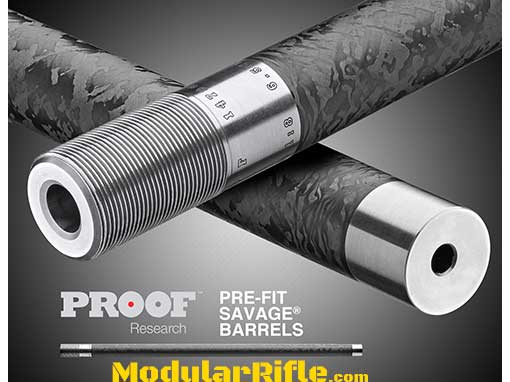 PROOF RESEARCH SAVAGE PRE-FIT BARRELS
The pre-fit carbon fiber barrels from PROOF Research can be installed without the assistance of a gunsmith, although some special tools are required.
By designing a carbon fiber barrel specifically for this platform, we've made it easy for Savage owners to extract every last bit of accuracy and handling performance from this iconic rifle," stated Jason Lincoln, VP of Engineering and Product Development at PROOF Research. "Our barrels are up to 50% lighter than steel barrels of similar contour and cool 60% faster than stainless steel, resulting in virtually no point-of-impact shift during high-volume strings of fire. We believe there is no better choice for the custom gun builder who wants to build a precision long-range rifle."
For the last several years PROOF Research has been proving that carbon fiber-wrapped barrels aren't just a lightweight alternative to traditional steel barrels, but that they provide superior performance, including extreme accuracy, and unprecedented durability. By combining their unique manufacturing process with advanced technology composite materials and thermo-mechanical design principles, they've accomplished what others have failed to do in the past—match-grade carbon fiber barrels that weigh a fraction of traditional steel barrels while compromising nothing.
SIN ARMS SAVAGE PRE-FIT BARRELS
Match grade Savage prefit for the 10/110 series of rifles (10,11,12,14,16,110,111,112,114,116 and stevens 200). All barrels are cut rifled blanks that get threaded, chambered and crowned in house by hand. If you have wanted a Brux Cut rifled barrel for your Savage this is what you need. Please choose all of the options you want. Current lead time is roughly 9 weeks on Brux.
Note: Buyer Beware, internet reports great product but lengthy lead times and poor communication. Better Business Bureau, YouTube