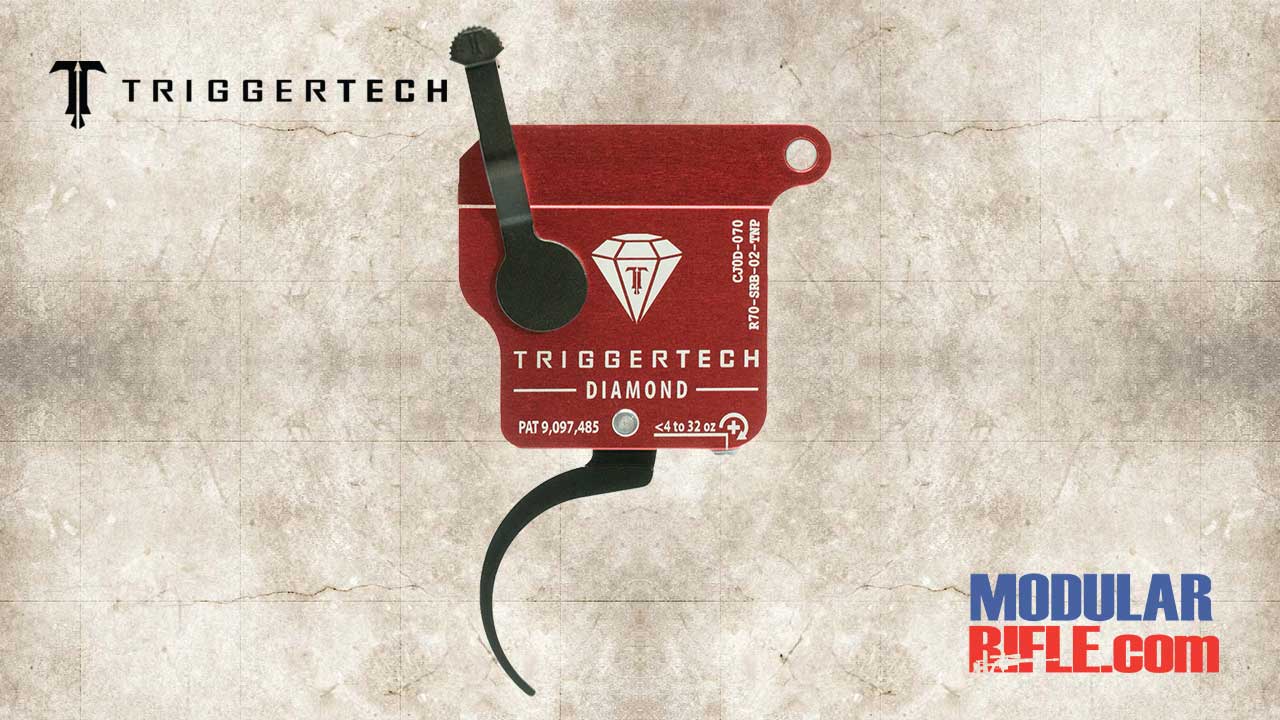 TriggerTech Diamond Trigger For Remington 700 and Clones
According to our favorite website the Precision Rifle Blog, the TriggerTech Diamond Trigger is the most common Remington 700 trigger in use by precision rifle shooters. In fact, more competitive shooters use the Diamond Trigger than all other triggers combined. We hope to get our hands on one soon and compare it to a Bix'N Andy we will be using for a Remington 700 .22LR project at our Rimfire World site.
Available at Optics Planet and Brownells.
See more Remington 700 Triggers
TriggerTech Diamond Trigger
The TriggerTech Diamond Rem 700 Trigger (for cloned actions only) was designed to meet the requirements of leading competitive shooters with the help of the K&M Shooting Team and several leading R700 Clone Action Manufacturers. The Diamond features a pull weight range of less than 4 oz to 32 oz, our new Variable Rate Adjustment Technology, and the new Pro Curved trigger lever. Our shooters have described it is the most consistent and crisp breaking trigger they have ever felt. After feeling the crisp break on the Diamond you will immediately become aware of the creep that exists in all other triggers.
Intended Use
Precision Rifle, benchrest, competition, precision shooting, military, law enforcement, long-range hunting, F Class, rugged hunting, harsh environments operations, target shooting, ultra-long-range, varmint hunting.
Trigger Control Details
Weapon Platform: Remington 700 Clone Actions
Trigger Lever Type: Traditional Curved, Flat Straight and Pro Curved
Trigger Action: Single Stage
FRT: Yes
TKR Technology: Yes
CLKR Technology: Yes
Overtravel: Sub .010″
Pull Weight: <4 oz – 32 oz
Bolt Release: Without
Safety: With (removable)
Hand: Right & Left (+ $20)
Warranty: Product lifetime
Material Details
Housing: 7075 Aluminum (anodized)
Key Components: 440C Stainless Steel
PVD Black – PVD stands for Physical Vapor Deposition. It is a hard and durable coating that is applied to external stainless components to give them a clean black color.
Full Description
The first Rem 700 Diamond Trigger was shown at the 2017 NRA Show. Since then TriggerTech has worked with the K&M Shooting Team and several leading R700 Clone action manufacturers the refine the product. The Rem 700 Diamond is truly zero creep and is the most consistent and crisp breaking trigger you will ever use. The diamond will make you aware of the creep that exists in other triggers. It features new variable rate adjustment technology that enables quick and confident adjustment from <4oz – 32oz with TriggerTech's patented CLKR Technology™. The adjustment feature utilizes externally accessible set screw and the adjustment range begins at ~0.2 oz/click from <4 oz to ~9 oz and the changes to ~1 oz click from ~9 oz to 32 oz. Due to the exceptionally crisp break, most shooters report the pull weights feeling significantly lighter than a friction based trigger of the same measured weight. Five of the critical Diamond components are assembled as matched set to enable a true zero-creep break, extremely short overtravel, and offer outstanding reliability, even in the harshest environments. Frictionless Release Technology™, along with hardened 440C stainless steel internal components ensure corrosion resistance and extended service life. As Frictionless Release Technology™ does not rely on the coating, polishing, or lubricating the key engagement surfaces, trigger pulls will be more consistent from shot to shot and after thousands of shots than you ever thought possible.
All pull weights and measurements are approximate. ***Pull weights of TriggerTech Triggers are directly impacted by firing pin spring weight. Overweight firing pin springs may cause pulls weights to vary above the advertised range***
Download the TriggerTech Diamond Trigger Remington 700 Instruction manual here.