ACCURATE MAG SPORT TACT CHASSIS SYSTEM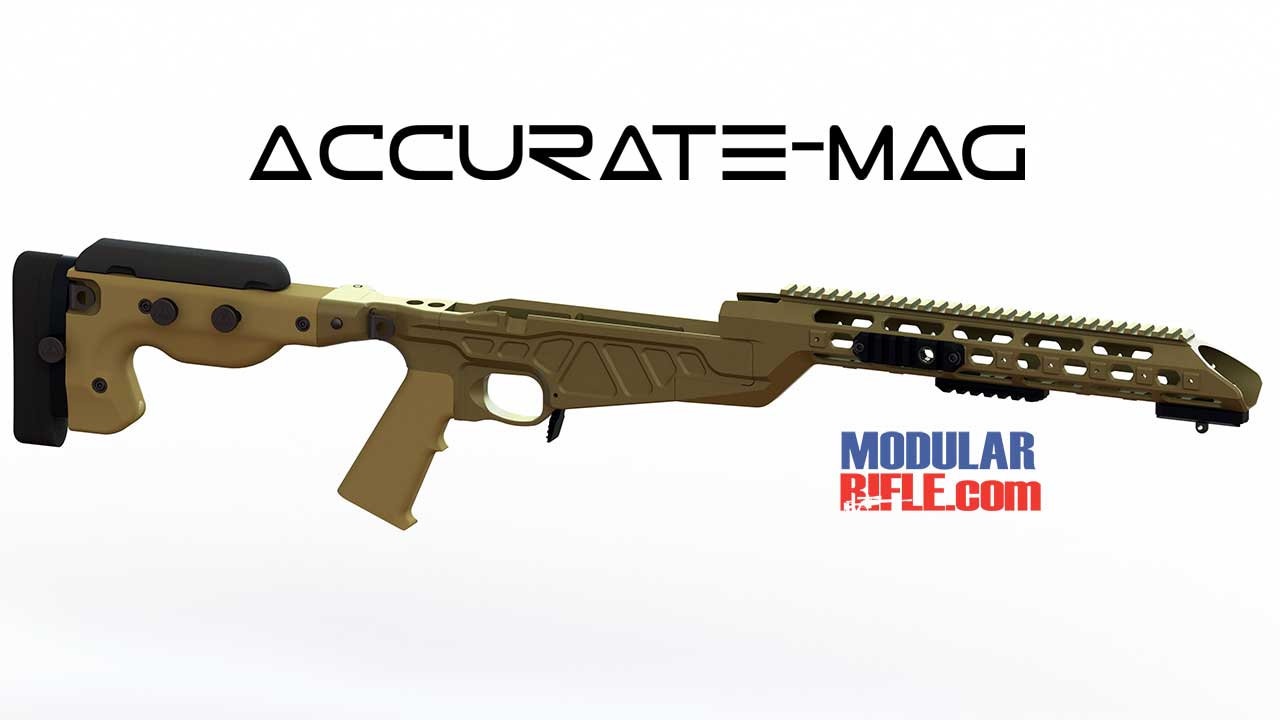 ACCURATE MAG SPORT TACT CHASSIS SYSTEM
The Accurate-Mag Sport-Tact Remington 700 Chassis is a complete stock system, ready for installation. Existing barreled action can be removed from current stocks, and simply bolted into the Sport-Tact Chassis. Included on the chassis is an adjustable stock, which has a variable LOP, from 13 to 15.75″. The cheek-piece can also be adjusted fore & aft, as well as up & down. Front handguard includes side and bottom picatinny rails, while providing plenty of room to free-float a barrel. Chassis is machined from aluminum, allowing for rigid mounting of your action. AR-15 style pistol grip is included. Short Action Chassis includes 5rd 308 magazine. Accepts Accurate-Mag double stack detachable magazines or AICS magazines.
SPECS: Fits – Short Action Remington 700 rifles.  Includes 5rd magazines (SA 308 Mag).  Construction – Aluminum.  Finish – Matte black anodizing.  Includes AR-15 grip.  Adjustable stock, for LOP and cheekweld.
SPORT-TACT CHASSIS SYSTEM
The Sport-Tact line of sporting tactical rifle chassis has been developed from Military requirements and the needs of long range hunting enthusiasts. The approach to the design of the chassis line was to keep the three major component groups completely modular (Butt-Stock, Center Section and For-End) to allow a mix and match scenario to satisfy any solicitation or sporting requirement.
The corner stone component of the sport-tact Chassis system is the dedicated center section in either short or long action. Currently we offer these for Remington and Savage based systems. Matched with current offerings of AM Products cartridge magazines.
Very Simply you can build your own chassis system by selecting the desired butt-stock, center section and fore-end from the option described before and shown to the right and select a finish of either Black Hard Coat or Gun Kote Flat Dark Earth or Sand.
In addition to the center section options for most of the major rifle receivers, many fore-end and butt-stock options are available. Butt-Stock options include a fixed butt-stock machined from 6061-T6 aircraft grade aluminum and a folding butt-stock with aluminum frame covered with a plastic skin for a soft and warm feel. Folding stock models are available with and without a butt-spike. Fore-End options include a short, open top rail section with a full length bot-tom rail and movable rail segments on the sides. Also available is the Accurate-Mag tactical fore-end with full length top rail on top and either integrated picatinny rails machined into the front portion of the fore-end on the sides and bottom or with a Modular Rail System running the entire length of the sides and bottom.
ADVANCED LEVEL CHASSIS (Options Included)
Actions: SA or LA in SAV or REM
Butt-Stocks: Tactical Folding Butt-Stock with Butt-Spike
Fore-Ends: Tactical Fore-End with MRS
Colors: Gun Kote Finish
BASE LEVEL CHASSIS (Options Included)
Actions: SA or LA in SAV or REM
Butt-Stocks: Fixed Butt-Stock
Fore-Ends: Tri-Rail Fore-End
Colors: Black Finish
Save
Save
Save
Save