The TRG M10 is a bolt-action sniper rifle that is available in multiple calibers, manually operated and shoulder-fired, as well as magazine-fed. It has a high-capacity magazine and fully adjustable stock that make it a multi-functional system in a single weapon, suitable for many different circumstances.
A high level of configurability make the TRG M10 an extremely versatile platform: it easily converts from a true long-range precision rifle to a more compact piece of equipment.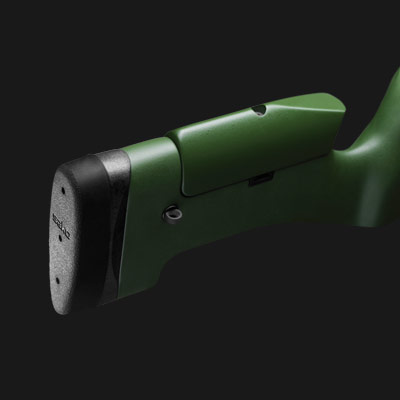 Stock
The TRG-22/42 is designed to meet individual demands, and adjusts to each shooter's personal style, build and posture. The aluminium re-inforced composite stocks are available in two colour options: black or green. The stock is designed for both right and left handed shooters. The rear stock is adjustable in height and cast off/on, and features cheekpiece which can be adjusted laterally and with spacers also vertically. The butt plate is adjustable for distance and angle trough the use of spacers and is also infinitely adjustable in height and pitch. The fore-stock features integral slot for fast mounting/dismounting of TRG adjustable steel bipod.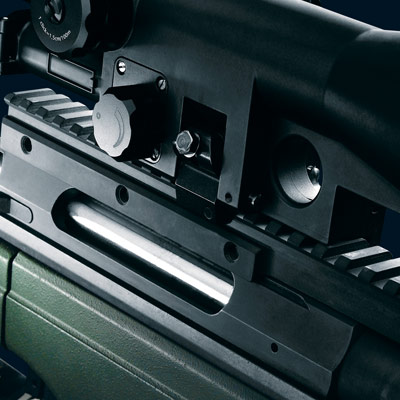 Action frame
Action frame is cold hammer-forged from special alloyed steel, stiff and sturdy for extra rigidity. The receiver is stabilized with three fastening screws. All Sako TRG receivers are are drilled and tapped for an accessory Picatinny rail. Integral 17mm axial scope mounting rails with recoil stop-slots.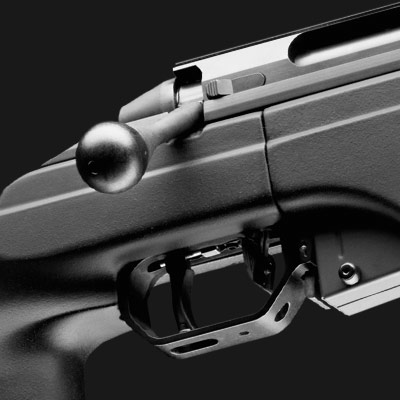 Bolt
3-locking lug bolt, with 60 degree opening angle for fast bolt throw. Reliable extractor, active ejector. The bolt is black in all Sako TRG configurations.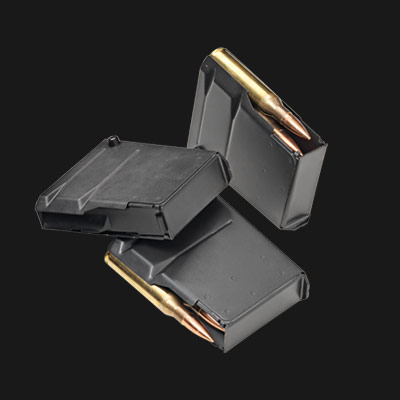 Magazine
The reliable Sako TRG magazines are detachable, center-feeding 2-row staggered and feature buttons on both sides providing better grip and easy & fast detaching. Magazine capacities are 10 rounds for cal. 308 Win, 7 rounds for cal.300 Win Mag and 5 rounds for cal. 338 Lapua Mag.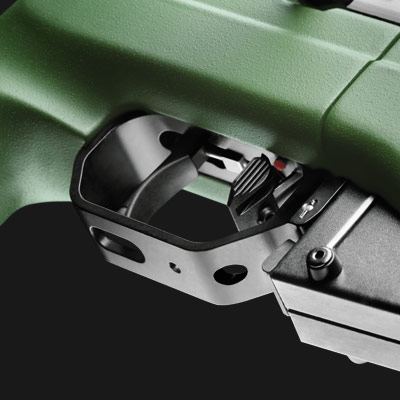 Trigger mechanism & bolt handle
The 2013 TRG update also introduced a new trigger mechanism for both the 22 and 42 models. This new mechanism ensures improved safety measures in case the rifle is accidentally dropped. It also features a new safety lever, which is ergonomically positioned and designed to make it faster and more convenient to use. The TRG 22/42 bolt handle attachment has been improved to withstand even the roughest handling.
SPECIAL FEATURES
FULLY ADJUSTABLE REAR STOCK
All adjustments can be done quickly without the use of any tools. The stock can also be securely locked down when required by using tools that come inside the weapon. The pistol grip has an interchangeable back strap in three different sizes; all three are included in the standard package.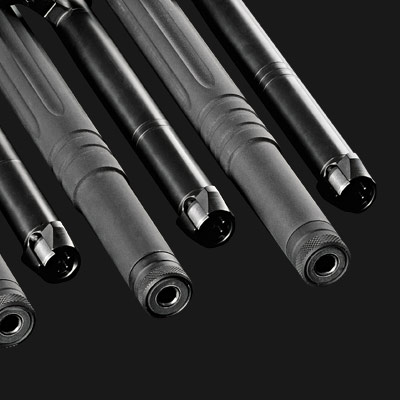 TACTILE INDICATORS
Identification of modular components for different calibers can be done visually or from tactile indicators placed on each critical component.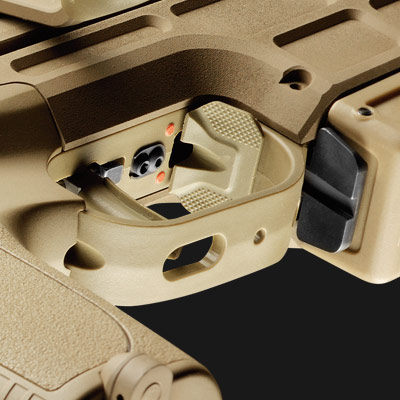 AMBIDEXTROUS CONTROLS
The ambidextrous controls are well within the reach of the firing hand and are large enough to be also operated with gloves on. The robust and fully adjustable trigger unit can be detached for maintenance and adjustment without further disassembling the weapon.
TECHNICAL SPECIFICATIONS
• = as standard, + = as option
Action                                     308WIN    308WIN    338LM
Dimensions
Total length (mm)                  1037           1186        1216,5
Barrel length (mm)               509,5           656          689
Weight (kg)                                6                6,1           6,5
Sights
Without sights                                  •     •     •
Picatinny-rail or Weaver base       •     •     •
Trigger
Double stage trigger                       •     •     •
Magazine
Detachable magazine                     •     •     •
Magazine capacity                         11     11     8
Other features
Black bolt                                        •     •     •
Muzzle brake                                 +     +     +
Muzzle thread                                •     •     •
Phosphatized steel parts              •     •     •
Stainless steel barrel                     •     •     •
Action    308WIN    308WIN    338LM
Caliber / rate of twist / number of grooves
308 Win / 11" / 4     •    •
338 Lapua Mag / 10″ / 4             •