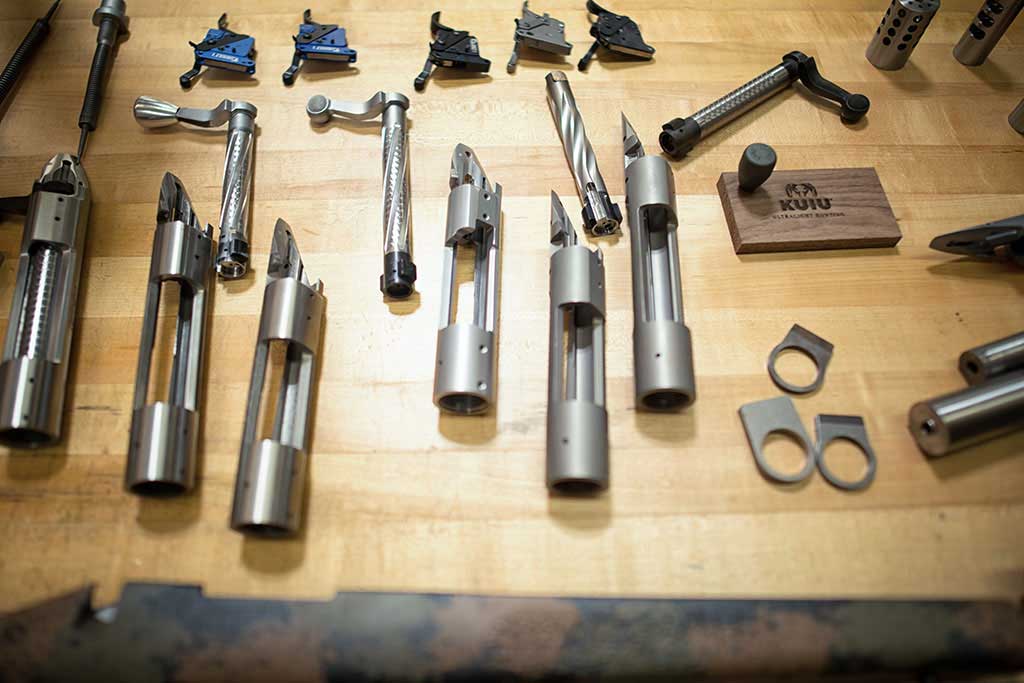 Remington Ultimate Sheep Rifle 6.5 Creedmoor
Since I began being interested in the 6.5 Creedmoor Caliber I have read over and over that because Remington offers .260 they will never offer a 6.5 Creedmoor chambered rifle. Fortunately for us not only is Remington offering 6.5 Creedmoor they have released two Model 700 rifles at the opposite ends of the price spectrum. The subject of this post is the high end offering from the Remington Custom Shop referred to as the Remington Ultimate Sheep Rifle.
Remington Ultimate Sheep Rifle Build Description
Through an unprecedented collaboration of some of the hunting industry's foremost brands, we're proud to offer the Ultimate Sheep Rifle. Combining the finest components available, this is the embodiment of KUIU founder Jason Hairston's vision of the perfect lightweight backcountry rifle, brought to life by the expert gunsmiths at the Remington Custom Shop. Weighing a mere 5.6 pounds, the Ultimate Sheep Rifle is built to withstand the unforgiving conditions and terrain typical of mountain hunting, with a titanium action and carbon-fiber wrapped barrel and premium carbon-fiber stock to ensure unfailing performance and accuracy in any situation. The original build is in 6.5 Creedmoor, however, our Custom Shop can chamber the rifle in any short action caliber in the Titanium action or any short-action magnum caliber at all if stainless is used instead adding mere ounces. Keep up-to-date on The Build at the Ultimate Sheep Rifle blog.
To get started on your own Ultimate Sheep Rifle, contact your local Custom Shop Dealer or the Remington Custom Shop today.
Action – Remington 700 Titanium Short Action
Barrel – Proof Research Premium Cut Rifled Carbon Fiber Wrapped

20" Light Sendero Contour
Threaded 5/8 x 24 RH with Custom Muzzle Break
Thread Protector Included
Custom Kuiu Engraving
Barreled Action –  Custom Cerakoted in Titanium color

Stock –  Manners Custom Carbon Fiber EH-8 Stock

Custom Cerakoted in Kuiu Vias pattern by Scalpel Arms
Aluminum Bedding Pillars
Custom Bedded with MarineTex
Custom Aluminum Bi-Pod Rail by Long Rifles Inc.

Bolt – Spiral Fluted

Mini Bolt Knob (Badger) with Kuiu Engraving
Triple Pinned and Timed
Extractor M-16 Style (Badger Ordnance)
Custom Duel Ejectors

Trigger –Timney 510
Aluminum Parts for weight reduction

Floorplate with Custom Kuiu Engraving
Firing Pin
Bolt Shroud

Rifle only weight 5.6 Lbs.
Rifle OA Length 41"
The Genesis of a Brainstorm
June 03, 2017 – How the plan for the project was hatched – It started with a simple question: "What would the ultimate sheep rifle look like?" Now, through an unprecedented collaboration of the foremost high-country authorities, that question will be answered. The Remington Custom Shop. KUIU. Barnes Bullets. Leupold Optics. We're joining forces to build the superlative mountain rifle—a gun unlike anything ever built.
As a veteran high-country hunter, KUIU founder Jason Hairston is on a never-ending search for gear that will do three things: shave weight from his load, increase his effectiveness on the hunt, and stand up to some of the harshest terrain and most unpredictable conditions on Earth.
With Hairston's input, gleaned from years of experience, along with the peerless technical expertise of the Remington Custom Shop's gun makers, Barnes' ballisticians, and Leupold's optics engineers, we will design and craft the Ultimate Sheep Rifle. And you'll have a front-row seat to the action.
Through postings on this blog, a series of behind-the-scenes videos, and regular updates on Remington's Facebook and Instagram accounts, we're pulling back the curtain on the build and granting total access to the process every step of the way.
---
Remington Ultimate Sheep Rifle
If there's a universal mantra of any back country adventure—be it hunting, camping, mountaineering, or skiing—it's "ounces become pounds." That is to say, when you start making concessions for a few extra ounces here and there in the gear you carry, soon you're hauling extra pounds. In the backcountry, extra pounds lead to fatigue and exhaustion, which ultimately can compromise a hunt.
Step 1: Choosing the Remington Ultimate Sheep Rifle Components
Building the lightest and strongest rifle possible
In March, KUIU founder Jason Hairston visited the Remington Custom Shop in Sturgis, South Dakota, where we presented him with a number of options for each component that will comprise the Ultimate Sheep Rifle. We discussed the pros and cons of each with regards to Hairston's wants and needs for the gun. After hours of deliberation, here's where we landed.
Remington Ultimate Sheep Rifle Action –  Remington 700 Titanium; 8 oz.
Hairston opted for a titanium Model 700 action in 6.5 Creedmoor (more on the caliber choice in a future post). Remington's custom titanium actions are so precisely machined, to such tight tolerances, that secondary blueprinting—a step required of nearly any factory action—is not necessary. The bolt will feature an M-16 extractor and dual ejectors, as well as a Badger Ordnance Mini Knob.
Remington Ultimate Sheep Rifle Stock – Manners EH8; 1 lb. 6.4 oz.
We showed Hairston a number of stock choices, including a few with comb and length-of-pull adjustability. In the end, this sleek, simple Manners won out. Like all Elite Hunter stocks, the EH8 has a carbon-fiber shell and a super-light fill. It's compact and features a traditional straight grip with minimal palm swell. Designed specifically for Model 7 and 700 short actions, it'll get a hand-laid epoxy bedding job for a rock-solid foundation. Scalpel Arms in Dallas, Texas, will apply a custom KUIU Vias paint job.
Remington Ultimate Sheep Rifle Barrel – Proof Research Premium Match Grade Stainless (Sendero Light contour); 2 lb. 10.4 oz. (unchambered)
Unmatched strength and durability for minimal weight. That's the hallmark of Proof Research's carbon-wrapped steel barrels. Oh, and the accuracy isn't too shabby, either. We considered a super-lightweight barrel with a sporter contour, but opted for the added rigidity and strength of the Sendero Light. At 20 inches in length with a 1-in-8 twist, we went as short (and therefore lightweight) as possible without giving up any accuracy. The muzzle will be threaded for a brake.
Remington Ultimate Sheep Rifle Trigger – Timney Remington 700 (model no. 510); 1.6 ounces
Made from a solid block of heat-treated steel, Timney's Remington 700 trigger features a pull weight is factory-set at a crisp 3 pounds with absolutely zero take-up.
Rounding out the rest of the components are an aluminum floor plate and trigger guard, a titanium recoil lug, an aluminum firing pin, and an aluminum Atlas bipod rail. All the metal work will be Cerakoted for supreme protection against the elements. Before the scope and bipod are added, the rifle will weigh right around 5 ½ pounds and will represent the pinnacle of the strength-to-weight ideal.
Visit Remington