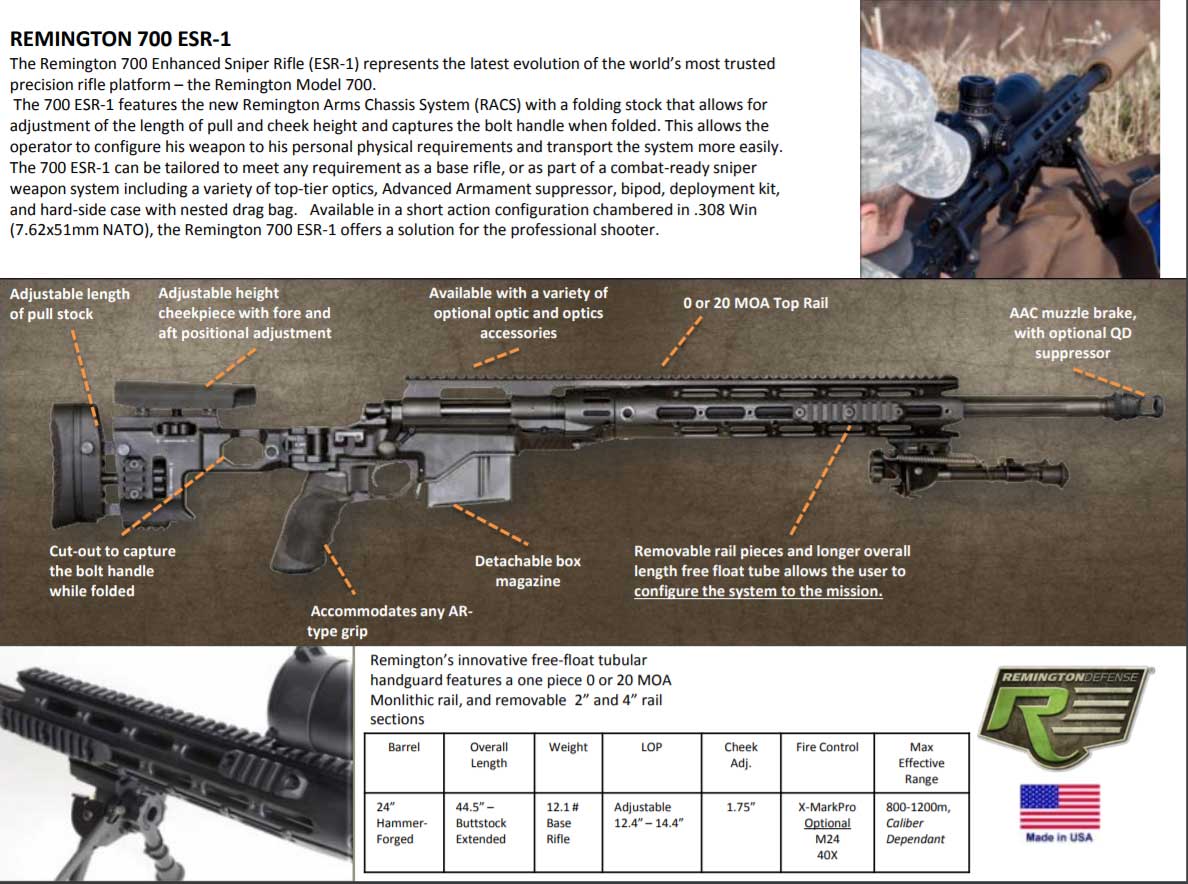 Remington 700 ESR-1 Enhanced Sniper Rifle 86679
It would appear that Remington refuses to let the XM2010 Sniper Rifle platform die. The XM2010 was renamed M2010 and now it's once again revamped with a .308 Winchester specific designation the "700 ESR-1". The picture on the Remington Defense website appears to be the same old recycled picture from the XM2010/M2010 .300 Winchester Magnum pages. The Remington ESR-1 is currently available to law enforcement only.
Eurooptic sells the complete rifle package to the public under the original XM2010 name in .300 Winchester Magnum.
Note: Remington worked with Cadex on this early on. Cadex has been evolving their chassis ever since. If the XM2010 is out of your price range check out Cadex for a more up to date design.
Download: Remington 700 Enhanced Sniper Rifle ESR-1 Specification Sheet
Remington 700 ESR-1
The Remington 700 Enhanced Sniper Rifle (ESR-1) represents the latest evolution of the world's most trusted precision rifle platform – the Remington Model 700.
The 700 ESR-1 features the new Remington Arms Chassis System (RACS) with a folding stock that allows for adjustment of the length of pull and cheek height and captures the bolt handle when folded. This allows the operator to configure his weapon to his personal physical requirements and transport the system more easily. The 700 ESR-1 can be tailored to meet any requirement as a base rifle, or as part of a combat-ready sniper weapon system including a variety of top-tier optics, Advanced Armament suppressor, bipod, deployment kit, and hard-side case with nested drag bag. Available in a short action configuration chambered in .308 Win (7.62x51mm NATO), the Remington 700 ESR-1 offers a solution for the professional shooter.
SKU 86679 
CALIBER 308 Win
TRIGGER X Mark Pro (optional M24 or 40X)
BARREL LENGTH 24″
TWIST 1:11.25; 5R
BARREL MATERIAL Hammer Forged Stainless Steel
STOCK/CHASSIS RACS Modular Chassis
MAGAZINE 10-round AICS
MUZZLE DEVICE AAC
WEIGHT 12.1 lbs
LENGTH 44.5" – Buttstock Extended