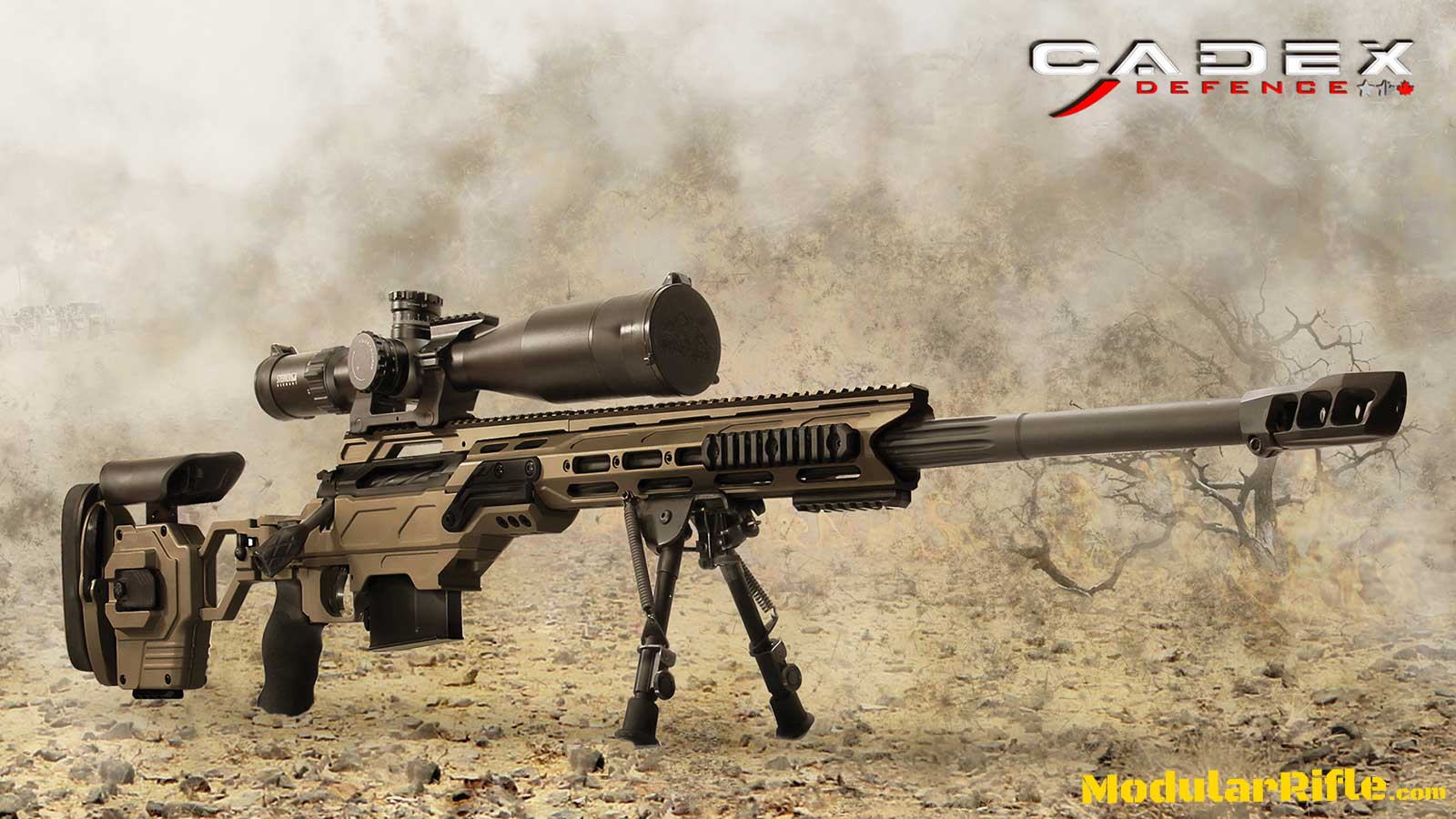 Im not one to let appearances of a firearm influence me. At least I thought that was the case until I learned of the Cadex Kraken officially named Cadex CDX-MC Kraken. The Kraken looks as good in it's physical form as it does on paper. I will own this rifle.
CADEX DEFENCE KRAKEN MULTI-CALIBER RIFLES – CDX-MC KRAKEN
The new Cadex Kraken (Cadex Defence CDX-MC Kraken), is a multi-caliber rifle using an innovative (patent pending) barrel change system. This system is the only true no point of impact change between take-down and reassembly of the same barrel. Cadex Kraken is using traditional barrel to action threading system while incorporating a special tool designed to unscrew and torque its barrel from the breech side.
CADEX KRAKEN SPECIFICATIONS
Muzzle Brake Ready – The Cadex Kraken is ready to accommodate a muzzle brake or suppressor.
V-Shaped Bedding System – Provides a stable platform that eliminates any movement of the action in the Cadex Chassis System.
Mirage Control Tube – Reduces image distortion from barrel heat.
Cadex Kraken Receiver
Bolt – 3 lug bolt with 60 degree bolt throw.
Bolt Knobs – A: Oversized cross hatch bolt knob (0.850″ x 2.625″), B: Grooved tactical knob (0.730″ x 2.8″), C: Knurled tactical knob (0.730″ x 2.8″), D: Rounded knob (0.981″ x 2.7″)
Barrel – In order for Cadex to offer the best extreme long range sub-MOA precision rifle, we selected Bartlein Barrels for the Kraken. Teamed with our Cadex designed 1.300" heavy barrel straight taper with barrel band and threaded muzzle for slip on suppressor or muzzle brake. All Cadex Kraken barrels are Match Grade, Single Point cut, 5R rifling with an optimized twist rate.
Recoil Lug – Heavy duty recoil lug
Trigger Options – Cadex DX1 Single Stage Trigger: The Cadex DX1 trigger is a single stage trigger adjustable about 1.5 to 5 lbs. It features an adjustable trigger shoe to improve ergonomics. Cadex DX2 Double Stage Trigger: The Cadex DX2 trigger is a double stage trigger adjustable about 2 to 5 lbs. Both stages can be adjusted separately. It features an adjustable trigger shoe to improve ergonomics.
Folding Butt Stock – Reverse folding butt stock offers bolt handle protection and ultra compact transport.
Locking Mechanism – Rattle free locking mechanism. Easy manipulation with gloves.
Folding Hinge – Offset cam to remove any free play
Tool Free Adjustable Butt Pad
Tool Free Adjustable Length of Pull
Tool Free Adjustable Cheek Rest
Full Length Dual Top Rail – The Cadex Kraken features a full length dual top rail. Available in 20 MOA, 30 MOA, or 45 MOA depending on the model.
Magazine Sleeve – Multiple magazine sleeves are available to fit most magazine types on the market.
Detachable Base – Removable for trigger maintenance or tuning without need to remove your action and lose your zero.
Pistol Grip – Finger grooved rubberized Ergo grip.
Trigger Guard – Oversized trigger guard and magazine release for easy manipulation with gloves.