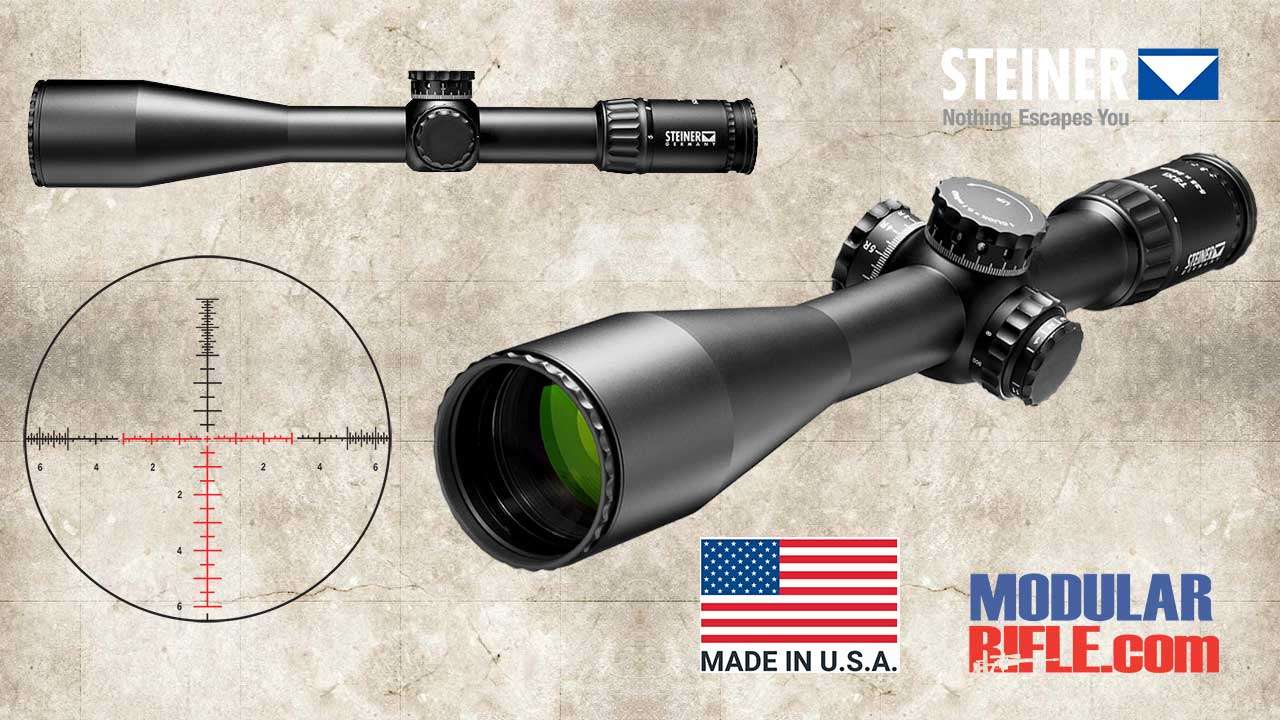 Steiner T5XI 5-25x56mm Riflescope 5122
The Steiner T5xi 5-25x56mm tactical riflescope with SCR reticle is designed for long-range precision. This riflescope is ideal for a long-range precision bolt gun like a .300 Winchester Magnum or .338 Lapua. Novice and professional long-range shooters alike will benefit from the features of these scopes. The low-profile turrets are completely resettable once the rifle is zeroed, and two set screws located in the knurling need to be adjusted to reset zero.
Steiner T5XI 5-25x56mm Riflescope 5122 (Mil), Steiner T5XI 5-25x56mm Riflescope 5126 (MOA)
Available at EuroOptic, and Optics Planet
Created as a low-profile unit, the new illumination now has an end user-controlled auto-off feature. This feature can be enabled or disabled as the user sees fit. Between each of the 11 intensity levels is a battery saver position. These disconnect the battery entirely from the illumination system, preventing a slow battery drain common in most rifle scopes. The 1-4 level settings are night-vision compatible.
Steiner T5XI 5-25×56 Riflescope 5122
The T5Xi Series brings unmatched clarity, accuracy, and self-assurance to any situation, from combat to competition. Precise German engineering, rugged U.S. construction, slick Never-Lost™ turrets, and a new SCR™ reticle gives you the victor's edge in long-range shooting.
Long-range scope with 34mm tube, illuminated etched glass featuring the new Special Competition Reticle (SCR™), and Second Rotation Indicator that shows each mil of elevation through the indication window on the elevation turret. Front focal plane.
Included Accessories: Battery, Lens Cloth, Lens Cover, Sunshade, Allen Wrench, Throw Lever
---
The Steiner T5XI 5-25×56 SCR Riflescope combines fully anti-reflection coated optics, a rugged, waterproof body, and an illuminated reticle. The optical system features a 56mm objective for gathering more light in low-light conditions and a 5-25x zoom for medium-to-long-range target acquisitions. Another highlight is the Competition Reticle (SCR) reticle, consisting of three very thin posts and a fine milling crosshair with an illuminated central area and a truncated top line. The reticle is located in the first focal plane and has densely spaced MIL-based hash marks. To provide clear visibility of the reticle's pattern in various lighting conditions, there are 11 illumination brightness levels: seven for daylight and four for nighttime. To help you compensate for wind and ballistic motion, the scope has 15 MIL windage, and 26 MIL elevation adjustment ranges with 0.1 MIL clicks.
The low-profile turrets are resettable and have hard stops at zero positions to prevent going over the range. The adjustment knobs and dials are wide and offer a comfortable non-slip grip. The elevation dial also has a second rotation indicator (with an integrated window) to avoid confusion about where you are on the dial. A tapered eyepiece ring with a zoom factor scale enables easy verification of your magnification setting while you are aiming without taking your attention from your target. Use the eyepiece throw lever for one-finger operation if you need an instant zoom adjustment. To make sure that your personal diopter setting cannot be accidentally bumped off its position, the diopter ring has a locking mechanism. For exceptional strength and durability, the body offers a 34mm main tube. It is shock-resistant, fog proof, waterproof, and submersible to 33′.
Optical Performance
5-25x zoom range
Anti-reflection coated optics
56mm objective gathers more light in low-light conditions
Use and Handling
0.1 MIL impact point correction
15 MIL windage and 26 MIL elevation adjustments
Construction Details
34mm single-piece maintube
Anodized aluminum housing
A tapered zoom ring makes zoom factor verification easy
Wide, low-profile, knurled dials provide an easy grip
Resettable and lockable windage and elevation turrets
The elevation knob has a second rotation indicator with a window
Throw lever for quick and easy control of zoom is included
Side focus parallax corrector knob
Locking diopter ring
Fogproof, shock resistant
Waterproof, submersible to 33′
Reticle
First focal plane
Designed for special competitions
Three fine posts
Fine milling crosshair with an illuminated center and truncated top
MIL-based measurements
Seven brightness levels for use in daylight
Four brightness levels for use at night
---