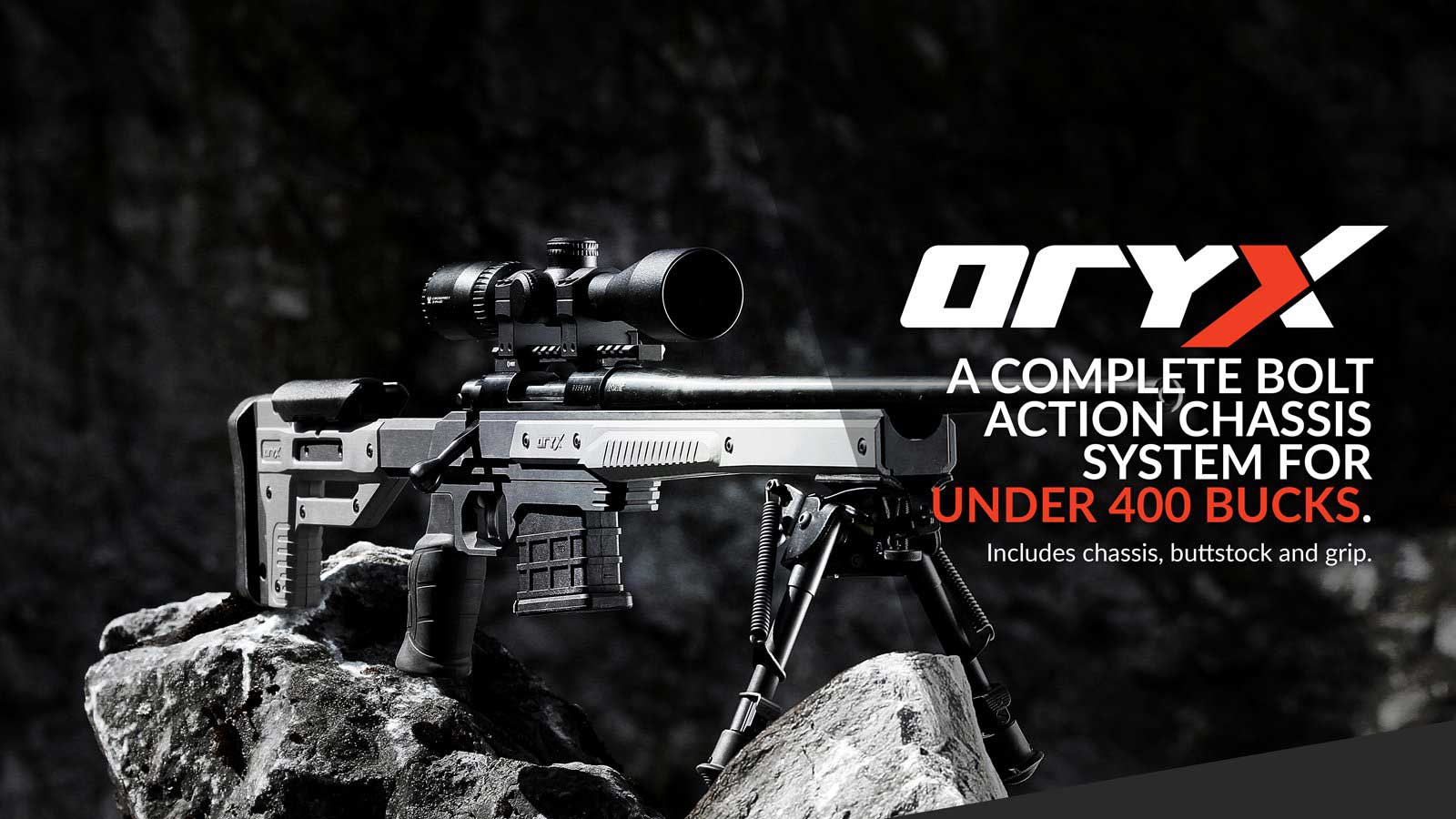 ORYX Rifle Chassis System By MDT
MDT introduces ORYX brand as a complete bolt-action chassis system for under $400. MDT has introduced a new chassis and brand with the release of the ORYX. The ORYX is a one-piece integrated aluminum chassis and buttstock created to improve the consistency and accuracy of a bolt action rifle that retails for under four hundred dollars.
What Makes the ORYX Chassis so Great?
ORYX is a one-piece integrated aluminium chassis and buttstock created to improve the consistency and accuracy of your bolt action rifle.
Free Floating Barrel: We let the bore do the chore. The ORYX keeps your barrel free of any contact with the chassis components for greater consistency.
Solid Action Interface: Each ORYX is designed for your specific rifle model – holding your action solid for better accuracy.
Integrated Rifle Stock: From the forend to the buttpad – ORYX is one piece of aircraft grade aluminium. Solid. Straight.
Contoured Forend Grip: You always have your hands on your rifle – why not make it feel perfect when you hold it? The ORYX fits great in your hands and sits solid on barricades and platforms. And for those cold days in the woods or when things heat up at the range the ORYX polymer side panels keep your hand's comfortable no matter the conditions.
ORYX Chassis Specifications
Made of hard anodized T6061 aluminum
Adjustable comb
Adjustable length of pull
M-LOK slots on bottom of the forend to attach bipods and other accessories
Flared magazine well to improve and speed up the loading process
Mag well acts as barricade stop
Multiple QD attachment points
Includes MDT contoured pistol grip
Polymer side panels provide added handling and ergonomics – including a thumb shelf – which lends itself to a variety of hand positioning and shooting techniques.
Weighing in at 3.2 lbs, the ORYX is the perfect platform for a hunting rifle.  The ORYX can accommodate up to a 1.25″ straight taper barrel, which makes the ORYX perfect for a precision rifle build.
The ORYX is currently available for the Remington 700, Howa 1500, and Tikka T3. Releases for the Remington 783, Howa Mini, and Ruger American are slated for early 2019.