MDT LSS and HS3 Instruction Manual
Modular Driven Technologies MDT HS3 Rifle Chassis System – One of the things about running forums, websites and blogs is we often get to test a companies web based customer service. To us that is an important detail in 2015.  If your going to have an online business website that  contains a contact email, contact form or help desk system you sure as heck better use it. Shooters expect a response. It's your business past and present to lose. Anyhow every now and then you run into folks that exceed expectations. Folks like Roger of Forward Controls Design, Josh at Criterion Barrels and now Maarten at Modular Driven Technologies who take the time to answer all your questions and then some. That type of support and service makes it easy for them to separate a shooter from their hard earned dollars.
Based on my recent dealings it's been a pleasure to re-launch this site with my initial focus on projects based on MDT products.  This time the Modular Driven Technologies MDT HS3, right hand for  Remington 700 BDL 22-250
Improve accuracy and ergonomics with our HS3 Chassis system. The HS3 is a light (2.2lb) chassis system for bolt action rifles that allows use of AR-15 buttstocks and grips to suit your needs. It is machined from 6061 aluminum, hard anodized and finished with black or FDE side panels for color, grip and feel.

Our HS3 (Hunter/Sniper) Chassis series is a combination of benchrest accuracy, superior ergonomics and specialized design. The new HS3 chassis brings your
bolt action rifle to the next level in versatility and ergonomics, with an instant improvement in accuracy. The chassis itself is only 2.47lb / 1.4kg and was designed based on customer feedback who wanted longer fore ends (3″ longer than our LSS), and use fixed rifle stocks (as compared to our LSS chassis which was designed for compact use with collapsible stocks)

The drop-in chassis serves as a base to which the operator can add tactical components according to the desired functionality. The stock is manufactured
out of aluminum, hard anodized to mil spec type III, and has durable Polymer side panels which can be ordered in black or Flat Dark Earth (FDE).

This chassis was designed to accept Fixed AR-15 butt-stocks and non-beavertail pistol grips. The kit does not include shoulder butt-stock and pistol grip or magazines, offering the option to customize from the wide variety available on the market.

The HS3 chassis uses AICS style magazine in .223 and .308 caliber for short action systems, and 300WM, 30.06 or .338LM for long action systems, and supports
installation of bolt on MIL-STN-1913 accessory mounting rails on the bottom and sides of the fore-end. Spacers are required to mount side rails. The mounting holes are spaced for Magpul style L5 (11 slots) and L3 (7 slots) rails (1.600" / 3.200").

The rifle action only makes contact with the HS3 chassis on the V shape bedding and recoil lug area insuring the best accuracy and repeatability. The generous clearance on the fore-end makes any barrel up to the size of the action itself free floated

Weight: 1.4kg – 2.47lb
Designed for AR-15 fixed butt-stocks including our Skeleton Rifle Stock.
Accepts any AR-15 grip, without a beavertail.
Fits AICS / AM Magazines in .223 and .308 (SA), .300WM and .338LM (LA)
Polymer sides in Black or Flat Dark Earth (FDE)

Available Rifle Action Inlets

Remington 700 Short Action
Remington 700 Long Action
Tikka T3 Short Calibers
Tikka T3 Long Calibers (Requires MDT 3.540 Magazine)
Savage Models 10, 11, 12, 16 – Short Calibers
Savage Models 110, 111, 112, 116 – Long Calibers
Howa 1500 / Weatherby Vanguard – Short Calibers (Only works with MDT polymer agazines)

Coming Soon:

Savage Axis – Short Calibers
Mossberg MVP – .223
Mossberg MVP – .308
Howa 1500 / Weatherby Vanguard – Long Calibers
Remington Model 7
Remington Model 783 – Short Calibers

Dimensions:

The dimensions shown are based on a Remington 700 Short Action.
Note that the Skeleton Rifle Stock shown is 1″ shorter than a Magpul PRS.
MDT CHASSIS Modular Driven Technologies MDT HS3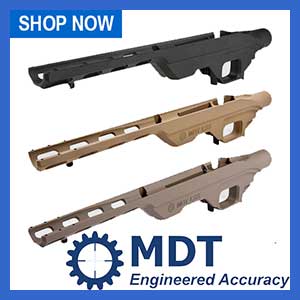 ---
Save