DRAKE SAVAGE MODEL 10 ACCURACY PACKAGE
NEW  CUSTOM PRECISION DRAKE / SAVAGE MODEL 10 ACCURACY PACKAGE, CHASSIS READY – ONLY $575 Ea. (plus shipping)
A Great Value as these rifles have been performing SUB HALF MOA, .4 MOA when installed into chassis system. You can even use this system right away "as is", in the polymer stock"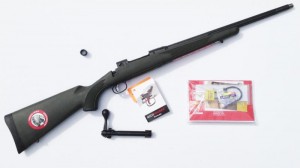 We listened to our customers and have developed a unique specification for a highly accurized custom DRAKE ASSOCIATES / SAVAGE Model 10 rifle. These custom guns include all the features found on high end precision weapon systems that would normally cost $3000-4000.
 All the accuracy work is included in this rifle action, trigger and barrel!
These highly accurate custom rifles are CHASSIS SYSTEM and SUPPRESSOR READY.
"UNIQUE and WORLD RENOWNED SAVAGE ACCURACY – SETS DRAKE / SAVAGE APART FROM THE COMPETITION"
SAVAGE HUNTER STALKER PRECISION BUILT BARRELED ACTION ACCURACY / TECHNICAL PERFORMANCE SPECIFICATIONS
Savage Model 10 Action – Precision CNC'd
Enlarged Tactical Bolt knob
Savage Accutrigger adjusted to 3 Lbs.
Precision Ground Bolt Head
Precision Ground / Flat and Parallel Recoil Lug with Key
Side Bolt Release
Enlarged 8-40 Top Holes (for scope base)
Ribbed Barrel Lock Nut
Precision Match Cut Chambers .308 Win
Precision Headspaced 308
Barrels pulled with NEW button rifling tool
5R Rifling System
20″ Fluted MATCH .308 Win,
1 in 10 Twist
11 Degree Precision Target Crown
5/8×24 End Threads
Thread Protector End cap
Custom DRAKE "Drake Bat Wing logo" ™ and markings
Synthetic Stock with internal magazine
User's Manual, Trigger Tool and Safety Lock