VICTRIX ARMAMENTS SCORPIO TCT PRECISION RIFLE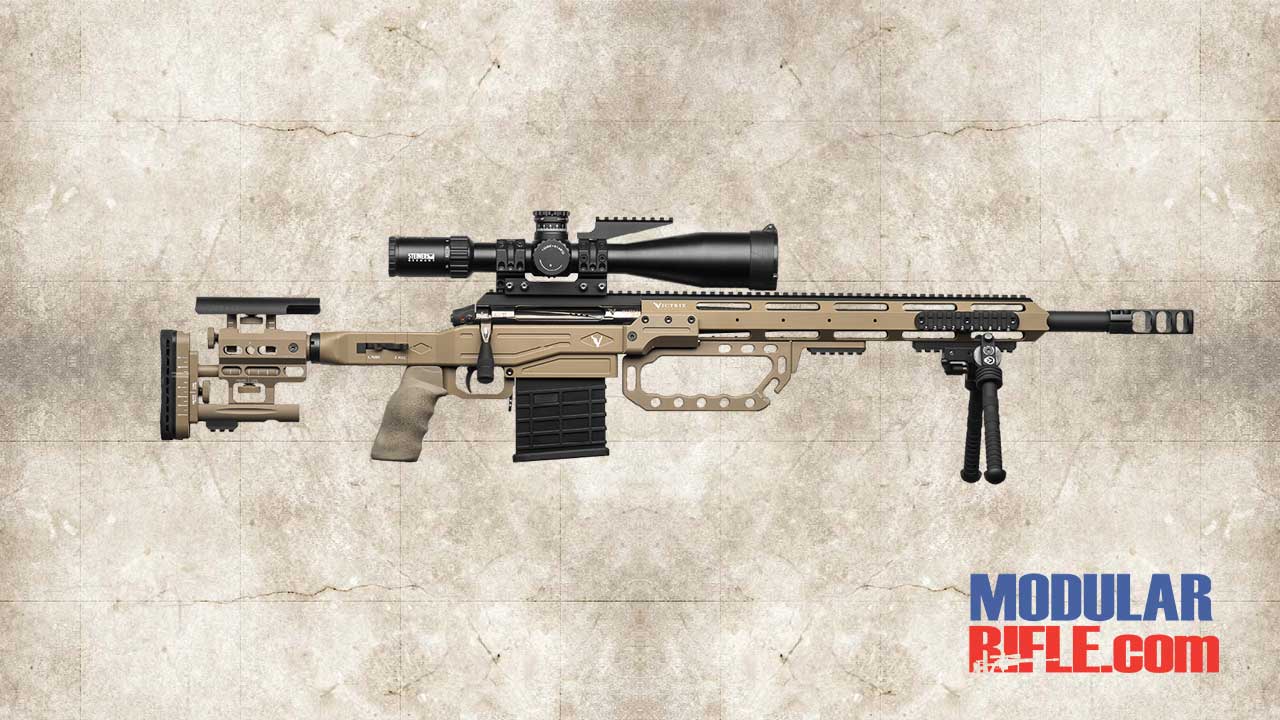 Victrix Armaments Scorpio TCT Precision Rifle
I first learned of Victrix Armaments from the EuroOptics website and did a bit of further reading in a Tactical Life Article. According to that article Victrix Armaments rifles are being imported by Beretta. My research however leads me to the conclusion that Beretta owns Victrix Armaments. The product line appears to be geared towards military and law enforcement sniper and counter sniper applications.
Download: Victrix Armaments Catalog 2019
The Victrix Scorpio Mille rifle is uniquely crafted by Victrix armaments with Military and Law Enforcement in mind. The Scorpio is part of the Minerva Series and ensures the highest degree of accuracy and repeatability. When it comes to long range precision shooting, magnum calibers like the .300 Winchester Magnum, .300 Norma Magnum, or .338 Lapua Magnum are a natural choice, that's why the Scorpio has chamberings for all three. The cleverly designed, fully modular rifle chassis (FMRC) allows you to customize your rifle for a variety of applications. The chassis is also made of aluminum alloy and hard anodized to prevent scratching and abrasion. The Scorpio is a rifle that celebrates precision and attention to detail.
VICTRIX ARMAMENTS SCORPIO TCT CONFIGURATION
Victrix Armaments are unique in that every component of their rifles, with the exception of the match-grade barrel are designed and manufactured within their company. The company has over 45 years of experience in high precision engineering and unique manufacturing processes allowing them to create reliable and incomparable weapon systems. Check out the Gladio Mille, Scorpio Mille, Pugio Mille, and Tormentum Mille in Minerva line of Military/Law Enforcement rifles.  
All our rifles of the Minerva series are designed on our tested three-lug bolt action, that is available in two different lengths, suitable for the most commonly used cartridges. The rifle can be fully customised to meet all peculiar needs thanks to a clever design of our FMRC (Fully Modular Rifle Chassis), thus still ensuring the highest degree of accuracy and repeatability. We also manufacture a wide range of accessories for the Minerva series, that can be all easily retro-fitted.
The Minerva rifles are our celebration of precision.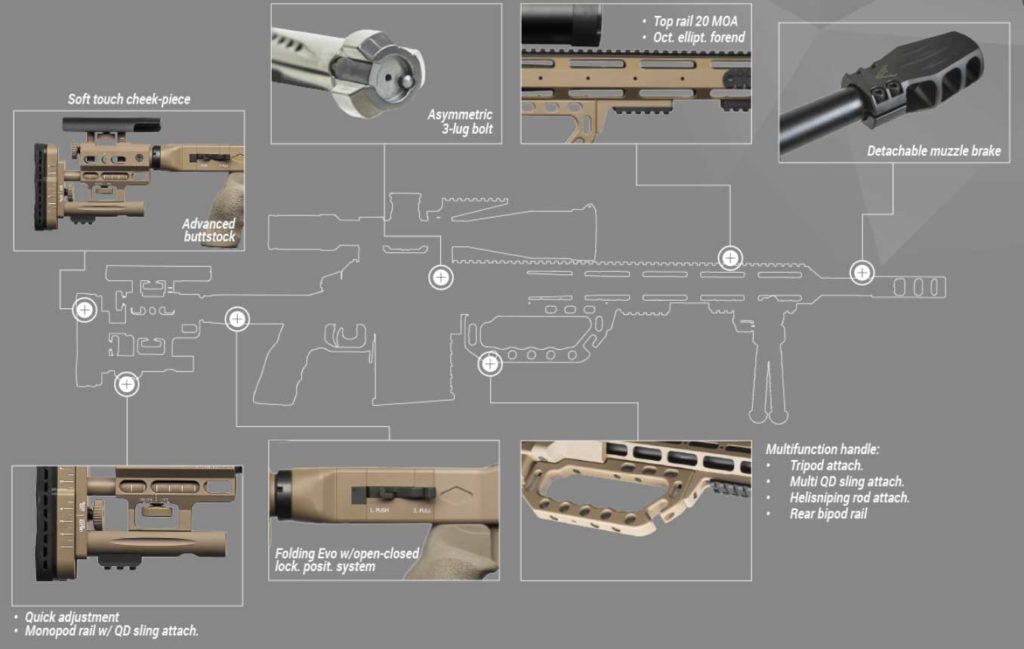 VICTRIX ARMAMENTS SCORPIO TCT SPECIFICATIONS
| | |
| --- | --- |
| Destination Use | Law Enforcement – Military – Tactical sporting shooting |
| Caliber (Twist rate) | .338 Lapua Magnum (1/10) – .300 Win Mag (1/10) – 300 Norma Mag. (1/10) |
| Barrel Length | 22″- 26″ |
| Barrel | Match grade in Aisi 416R lapped |
| Action | Minerva long 3-lug bolt action in Aisi 630 w/ detach. magaz. PVD coated |
| Magazine | 5 Rounds, 8 Rounds option (Law enforcement – Military use) |
| Trigger | Selectable dual or single stage; adjustable pull weight |
| Safety | Upper; 2 position lever |
| Muzzle Brake | 3 Chambers Detachable; thread M18x1 |
| Action Rail | 20 Moa |
| Buttstock | Advanced |
| Buttstock horiz. adj. | 50 mm |
| Buttstock vert. adj. | 60 mm |
| Monopod Rail | Stand. Equip. w/ QD sling attach. |
| Folding | Evo |
| Forend | Octagonal Elliptic |
| Forend Option | Keymod * |
| Top Rail | 20 Moa |
| Side Rails | Standard Equipment only on Oct. Ellipt. forend |
| Bipod Rail | Standard Equipment w/ QD sling attach. |
| Multifunction Handle | Standard Equipment |
| Stock Colour | Hard Black Anodized |
| Colours Option | TAN (action, barrel, muzzle brake, cheek piece, magazine, screws and rails: BLACK) |
| Option | Suppressor with quick lock system |
| Hard Case | Standard Equipment |
| Weight Gr. | 6700 (22") – 7050 (26″) |
| Dimension Min. / Max. mm | 940 / 1170 (22") – 1020 / 1260 (26″) |