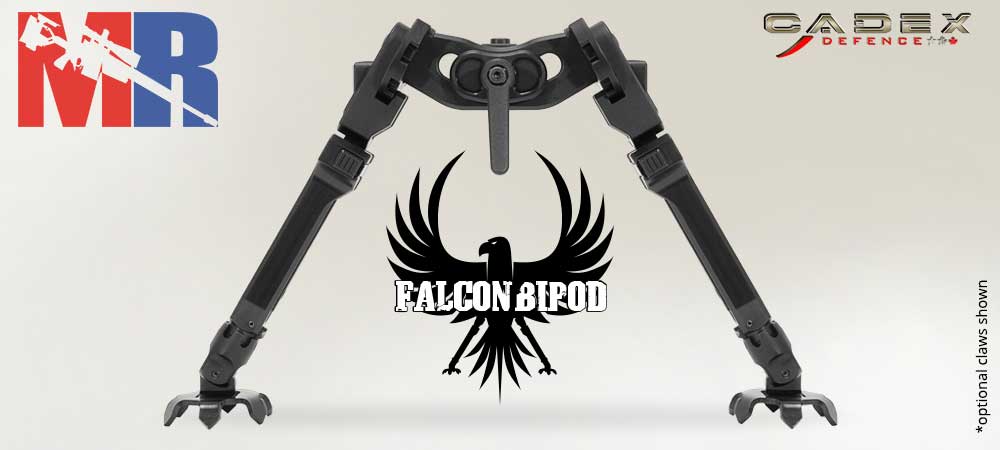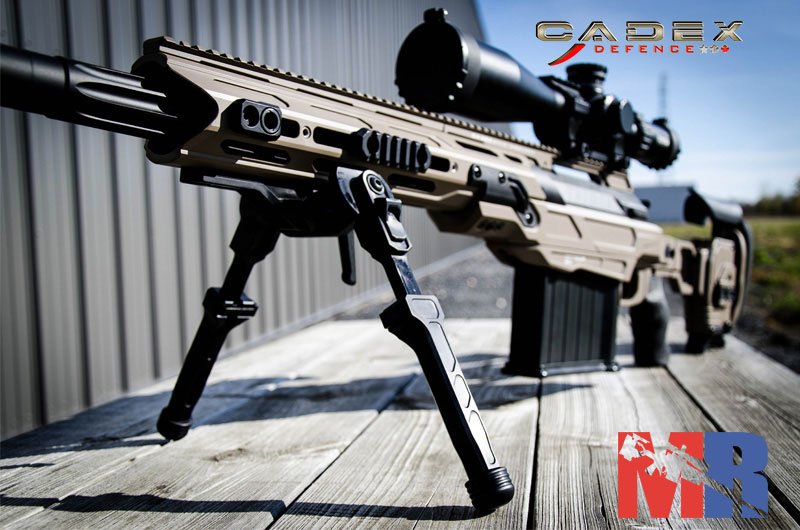 Cadex Falcon Bipod
The Cadex Falcon Bipod has been designed to provide the ultimate stability. It features multiple take down feet that adapt to any terrains. Can be installed on any Cadex rifles or chassis, or any rifles featuring a bipod rail.
Cadex Falcon Bipod Product Description
Fast deployment legs without buttons to push.
Ultra tight machining tolerances for maximum stiffness
and reduces free play.
Reversible legs for choice of index or thumb push button operation.
Easy to operate canting lever. Tilt angle + – 15.5°
Folds/deploy forward, rearward 45° or standard 90°
Height adjustable from 6.25″ to 8″.
Incredibly stable (width from 11″ to 14.5″).
Designed to withstand recoil up to 50 BMG.
Standard feet, optional claws or optional spikes.
MSRP* starting at| $549.95
*MSRP (Manufacturer's Suggested Retail Price) is only used as an indicator. Actual price may vary depending on the region.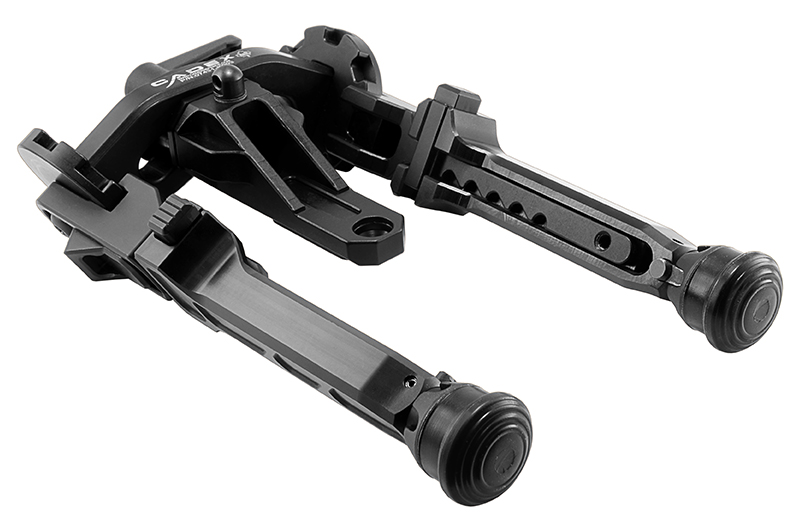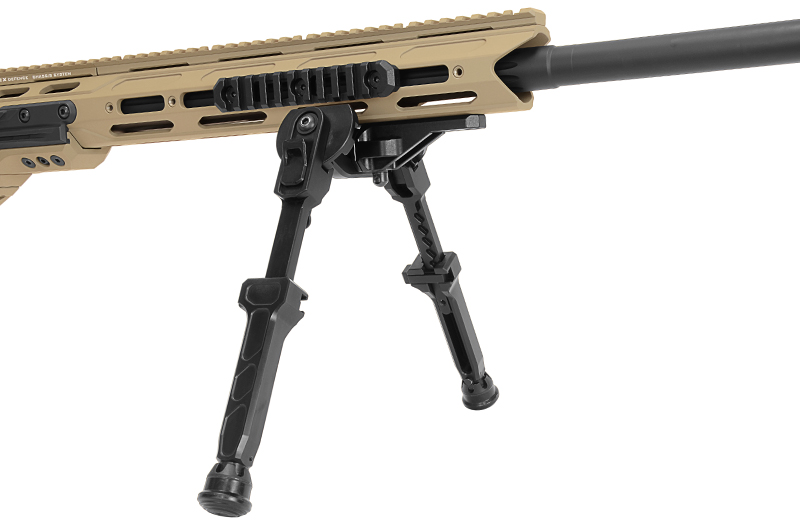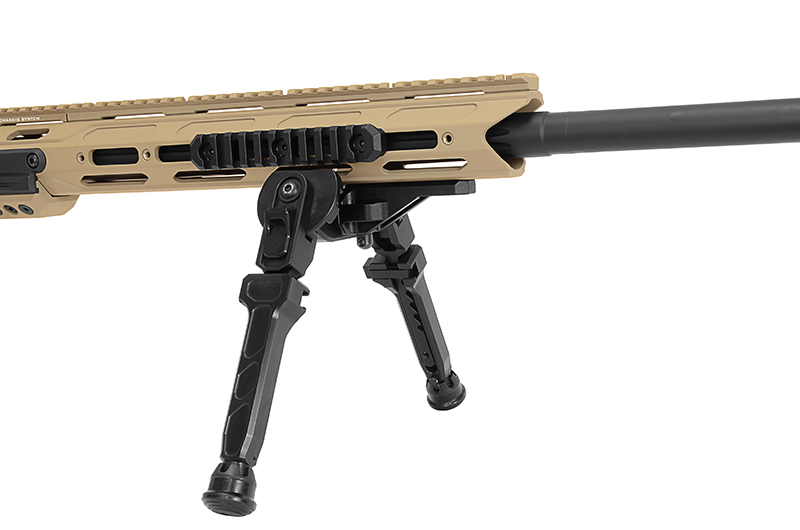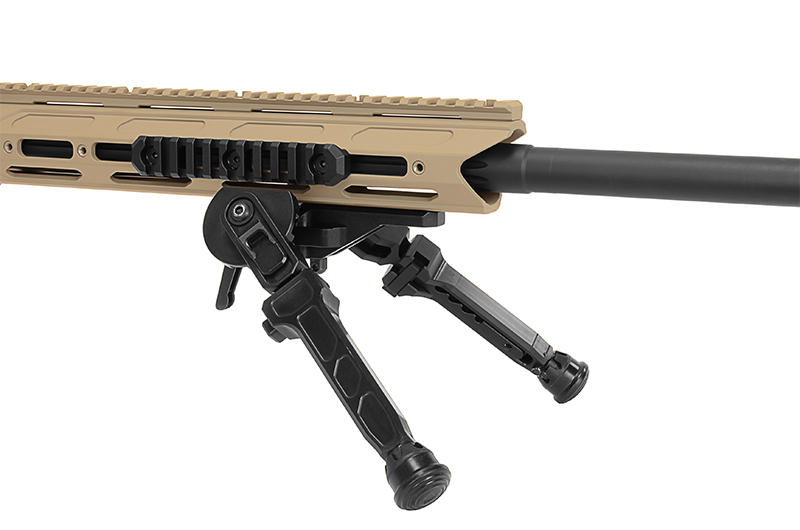 Falcon Bipod (10-32)
Part#: 7431-K011 *All chassis and rifles (except 375/408/50)
| | |
| --- | --- |
| Shortened: | 11.12″ x 5.19″ x 6.20″ |
| | 28.24 x 13.19 x 15.75 cm |
| Extended: | 12.99″ x 5.19″ x 7.81″ |
| | 32.99 x 13.19 x 19.85 cm |
| Folded: | 8.81″ x 5.01″ x 1.76″ |
| | 22.38 x 12.74 x 4.47 cm |
| Weight: | 1.24 lbs |
| | 562 grams |
| Material: | Aluminum 6061-T6 |
Falcon Bipod (1/4-28)
Part#: 7431-K013 *375/408/50 rifles, 50 BMG chassis and earlier than 2014 Dual Strike
| | |
| --- | --- |
| Shortened: | 11.12″ x 5.82″ x 6.20″ |
| | 28.24 x 14.79 x 15.75 cm |
| Extended: | 12.99″ x 5.82″ x 7.81″ |
| | 32.99 x 14.79 x 19.85 cm |
| Folded: | 8.81″ x 5.01″ x 1.76″ |
| | 22.38 x 12.74 x 4.47 cm |
| Weight: | 1.25 lbs |
| | 565 grams |
| Material: | Aluminum 6061-T6 |
Falcon Bipod with Picatinny Adaptor
Part#: 7431-K012 *All chassis and rifles with picatinny rail
| | |
| --- | --- |
| Shortened: | 11.12″ x 5.19″ x 6.20″ |
| | 28.24 x 13.19 x 15.75 cm |
| Extended: | 12.99″ x 5.19″ x 7.81″ |
| | 32.99 x 13.19 x 19.85 cm |
| Folded: | 8.81″ x 5.01″ x 1.76″ |
| | 22.38 x 12.74 x 4.47 cm |
| Weight: | 1.34 lbs |
| | 608 grams |
| Material: | Aluminum 6061-T6 |