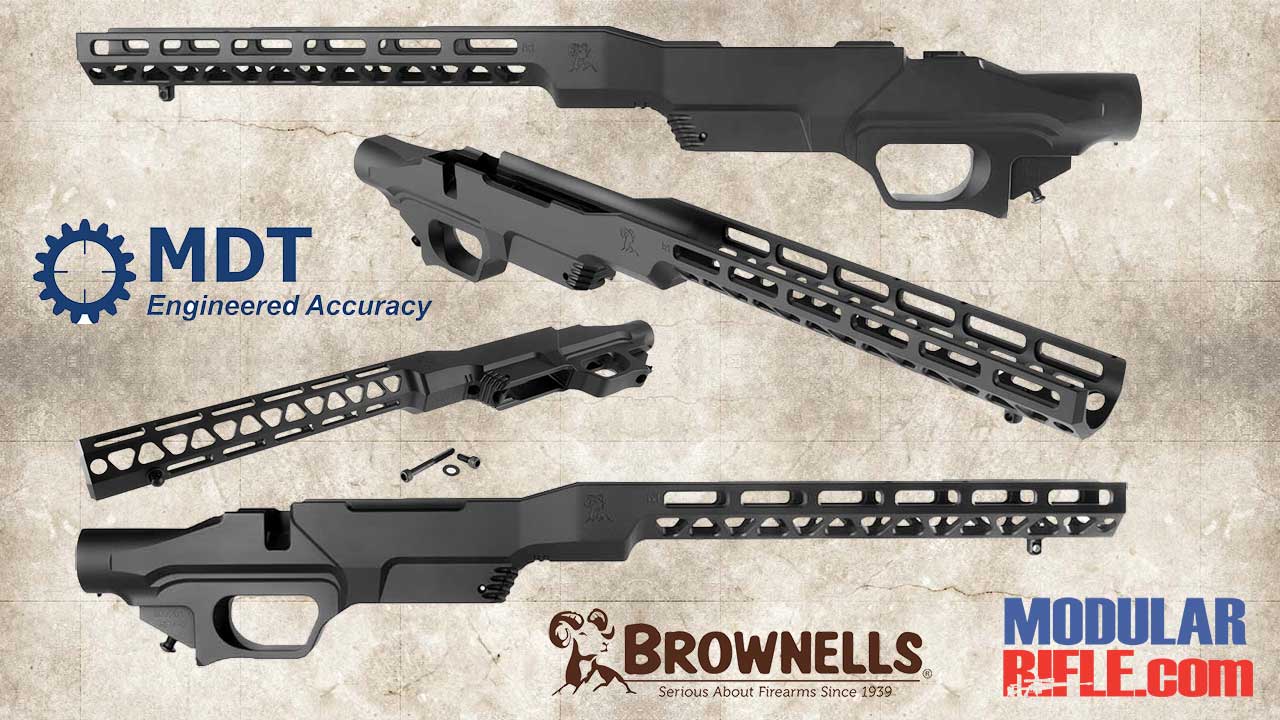 BROWNELLS MDT BRN-1 M-LOK CHASSIS
To me this is an unexpected product offering from Brownells, a Brownells branded MDT LSS Chassis. Brownells used to be slow to respond to firearm market trends and in my opinion this bolt action chassis finally shows some forward thinking on Brownells part. For me as i have stated before I really like partnerships between my favorite companies and Modular Driven Technologies and Brownells are two of my favorites. lastly i think the Rams head logo is a cool touch given that's exactly the types of beasts that might see action from this chassis.
There are currently 18 models to choose from including two for the Ruger American Rifle. Colors are Black or Flat Dark Earth aka FDE
Visit the MDT LSS Page
BROWNELLS MDT BRN-1 M-LOK CHASSIS | MDT LSS CHASSIS
The Brownells bolt action chassis is designed to accept carbine AR-15 buttstocks and pistol grips (purchased separately), offering the option to customize from the wide variety of Accessories available on the market.
The Brownells MDT LSS chassis uses external box style magazines in .223 and .308 caliber for Short Action and .300WM or .338LM magazines for Long Action rifles, M-LOK accessories on the forend.
Note: Long action magazines come in 3 different lengths: 3.715″, 3.775″ an 3.850″. this chassis use 3.715 length magazines.
The max thickness of recoil lug recommend is .350″ (8.9mm)
Specifications:
Increases accuracy
CNC Machined from 6061 Aluminum
Cerakote Finish in Black or Flat Dark Earth or Sniper Grey
M-LOK Compatible
Designed for carbine AR-15 buttstocks
Accepts most AR-15 Pistol Grips
Lightweight, free-floating modular forend
Will accommodate barrels up to 1″ diameter.
Compatible with AICS style magazines in .223 or .308 (SA) and 300WM, 30.06, 338LM (LA). (Long Action Magazine length 3.715)
Weight: 1.8lb – 2.1lb
WHAT YOU GET, AND WHAT YOU NEED
The Brownells bolt action chassis system comes as a 1-piece chassis, with all required mounting hardware included. This includes new action screws, and a screw for the pistol grip.
To complete this chassis on your rifle, the additional items you need to purchase are:
Any AR-15 buttstock. (Carbine stocks are best suited. )
A buffer tube for your buttstock. (Both milspec and commercial work on our chassis)
An AR-15 Pistol Grip.  At least one magazine
IMPORTANT NOTES
Howa 1500 / Weatherby Vanguard actions
Only MDT polymer magazines will work in the short action. The long action rifles will work with the metal 3.715″ magazines without fitting.
For .223 models the bolt stop may be too long. This can easily be modified.
Savage models 10/110 11/111 12/112 16/116
For rifles with the bolt release at the bottom, the bolt release can be engaged through the side of the chassis, using a pin or tool. (Not included)
Tikka T3 – Long Calibers
Only the MDT Metal 3.56 magazine will fit with the chassis for this action and needs to be purchased separately.