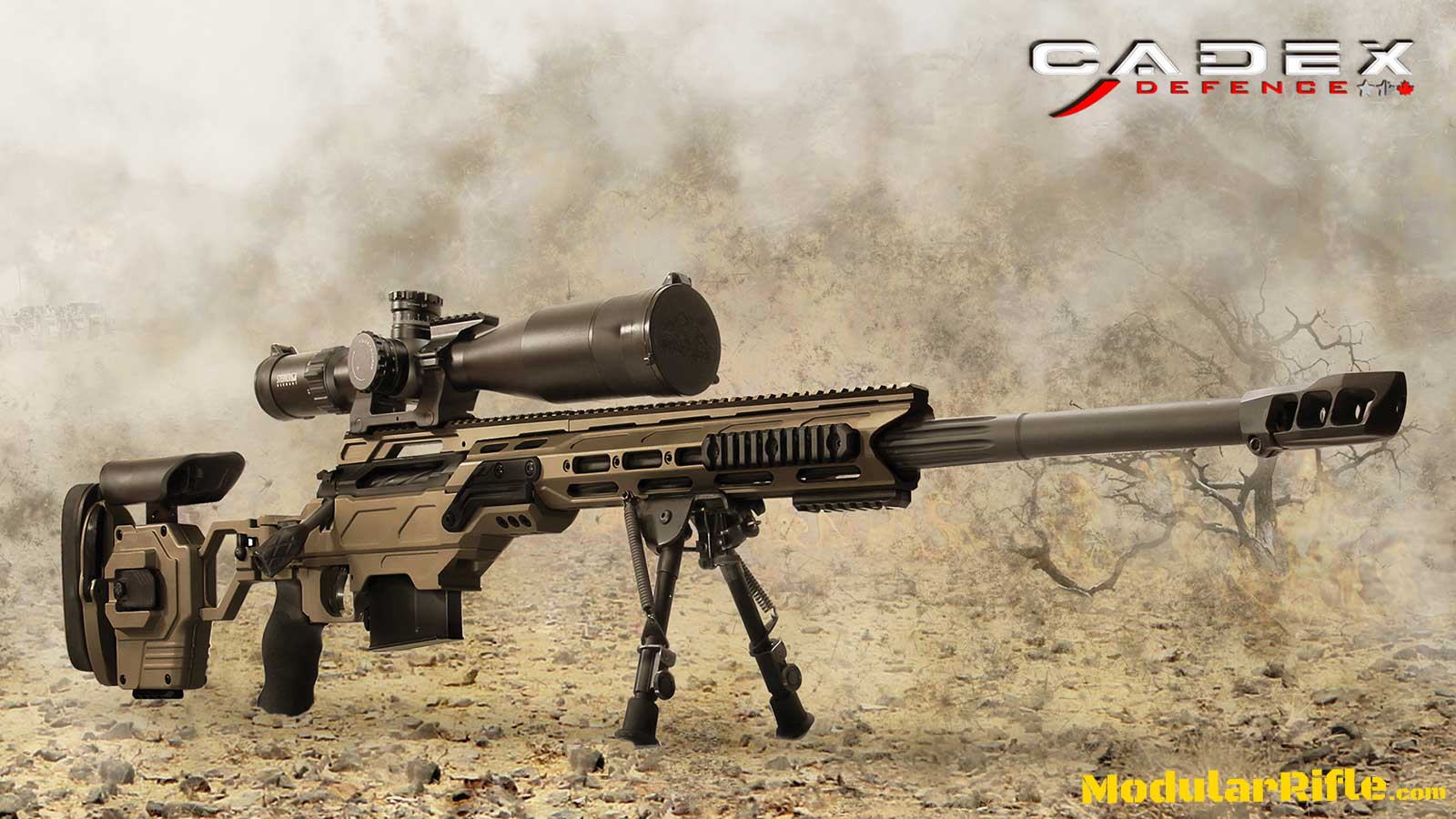 So you want to buy a chassis based sniper rifle. Often the more interesting premium modular chassis based bolt action modular rifles are not available for purchase from the traditional outlets. Visit this page for links to sources that do stock these awesome weapons
---
Barrett Firearms
Barrett Firearms – Thirty years ago, Ronnie Barrett built the first shoulder-fired .50 caliber rifle. That innovation still powers the Barrett team today. Continuing to grow and improve, Barrett is the world leader in large-caliber rifle design and manufacturing. Encouraging outside the box thinking and remembering 'you're only as good as your last accomplishment' pushes Barrett to strive for their main goal: absolute perfection.
---
Cadex Defense
Cadex Defense Chassis Systems – One of the most popular Cadex offerings, Cadex chassis are sought after frameworks for some of the best precision rifles on the planet.
---
Remington Defense
Remington is the oldest name in American firearms. Founded in 1816, Remington has aided American forces on the battlefield since the middle of the 19th century. Remington Defense focuses on modularity and user-configurable weapon systems. With a team of combat veterans, Remington Defense understands the need for adaptable weapons for the evolving landscape of today's battlefields. With almost 200 years of firearms experience, Remington Defense continues the legacy with exceptional small-arms solutions.
Remington Defense XM2010 300 Win Mag Enhanced Sniper Rifle
Built to sustain today's harsh battlefield environments, the Remington XM2010 has 1 MOA accuracy, a folding stock, monolithic rail, 5-round detachable box magazine, and a Leupold Mark 4 6.5-20×50 ER/T scope.
The Remington XM2010 kit includes everything needed to readily deploy a .300 Winchester Magnum precision rifle to the field or to the range. Utilizing the Remington Accessory Chassis System (RACS), this kit starts with a rifle with mounted Leupold Mark 4 6.5-20×50 scope, and goes much further.
Built off of the proven Remington M24 700 action, this rifle has proven out-of-the-box 1 MOA accuracy and has a configurable chassis which allows for changes in add-ons, length of pull, and cheek height. Stated range of this platform is 1200 meters.
This kit includes:
Remington XM2010 rifle
Leupold Mark 4 6.5-20x50mm ER/T First Focal Plane H58 Reticle Riflescope mounted with Badger Ordnance rings
Harris bipod
Pelican Hard Case
Armageddon Gear soft case (fits directly inside Pelican case)
(5) 5-round magazines
VTAC rifle sling
(2) Length-of-pull adjustment spacers
Wheeler Crosshair Leveling Kit
Cleaning Kit
Hard Case to fit Leupold scope
Pelican 1120 Deployment case, which includes CLP lubricant, Otis scope cleaning kit, spare firing pin, Butler Creek scope covers, (2) rail segments and associated hardware, BDC turret, 65 in/lb torque wrench, allen wrench set, and chassis action screw bit
Remington Defense M24R Sniper Rifles
Remington 700 Rifle and Chassis Kits
Remington Defense Remington RACS Chassis
Remington Accessory Chassis System (RACS) features a short action magazine and a skeletonized stock. The operator friendly RACS also features #8 action screws, a free-float tubular design, fully featured front handguard, the ability to attach auxiliary rail sections to any of the seven remaining facets.
The patent pending Remington Accessory Chassis System (RACS) incorporates state-of-the-art operator-defined attributes such as a free-float tubular design and a fully featured front handguard section. Operator-selectable auxiliary rail sections in various lengths can be attached to any of the seven remaining facets of the octagonal handguard, which allows the operator to install clip-on in-line night vision systems. The folding RACS buttstock provides the operator with a wide variety of adjustments to allow setting the system to suit the shooter and the operating conditions.
Remington Defense Remington PSR Kit 86642
---
---
Accuracy International
Accuracy International, or AI rifles have been battle proven since 1985. AI rifles offer no-nonsense, all-weather reliability combined deadly accuracy. These extremely precise, military tough rifles are developed through world class computer aided design and analysis tools coupled with on-site advanced prototyping technology. AI manufactures its rifles using statistical tools based on the Six Sigma methods and strict compliance with the ISO 9001 quality management system. All Accuracy International rifles are fired and function tested before leaving the factory. With principles based on world class manufacturing, teamwork, mutual respect and trust, there's a reason Accuracy is in their name.
AI's primary rifle offerings include:
The AX Multi-Caliber (AXMC) rifle is the flagship multi-caliber Accuracy International rifle offering. Featuring a technologically advanced quick-change barrel system, a highly adjustable chassis with KeySlot adaptable mounting system, and several selections in caliber, the AXMC is the best of the best. Available in short and long actions, and comes stock as a .308 Winchester, .300 Winchester Magnum, or .338 Lapua Magnum.
The Accuracy Tactical (AT) rifle features the same quick change barrel system and AI barreled action but without the power (and investment) of the AXMC chassis system. Still the AT offers adaptable rail systems, configurable cheekpiece, fixed and folding stocks, and more. Available stock in .308 Winchester short action.
The AX50 is Accuracy International's entry into the .50 BMG market – and one that does both the company and the caliber justice. When you're ready to start moving toward a .50 precision rifle, this is your one-stop shop.
---
CheyTac
CheyTac – Probably most well known for the famous M200 Intervention, CheyTac USA is home of the M200 and M300 Intervention series of rifles and the patented Balanced Flight Projectile. The M200 Intervention was listed as the number one sniper rifle on the Military Channel's Ultimate Weapons – Sniper Rifles series. The M200 has also starred in movies, including Shooter and Ghost Rider 2, and is found in the video game Call of Duty 4.
While the M200 Intervention is a prominent CheyTac icon, CheyTac's line of rifles and ballistically advanced projectiles has evolved. Setting prominent distance records, the .408 CheyTac round (and its smaller sibling, the .375 CheyTac) have developed a reputation for ballistic sophistication and ability to consistently hit targets at 1000-2000 meters while retaining significant kinetic energy.
At approximately one-third smaller and lighter than the .50 BMG, the .408 CheyTac round is a smaller and cheaper alternative to ultra-long range technology. Seize the Distance.
---
Desert Tech
Desert Tech – Founded on protecting freedom and advocating civil rights, Desert Tech was born in May 2007. Desert Tech strongly believes every individual has the right to own firearms to protect themselves, their family, and their property. Desert Tech strives to be the company people turn to in need of firearms for both self-protection and recreational hunting.